Men's soccer seniors lead 'Hawks on senior night
Senior night brings a lot of opportunities to leave a final note on the program that players have given everything to.
That was clearly the way the three recognized seniors on the UW-W men's soccer team wanted to leave their program on Halloween night when they defeated no. 18 UW-Platteville 3-0 at Fiskum Field, and earned the right to hoist the Shaymus Guinn Cup. All three scored at least one point.
Whitewater is on a six-game winning streak after defeating the Pioneers, and could qualify for an NCAA Tournament spot.
"We deserve to be in the tournament," senior defender Isaac Monson said, who was emotional after winning his final game at Fiskum Field.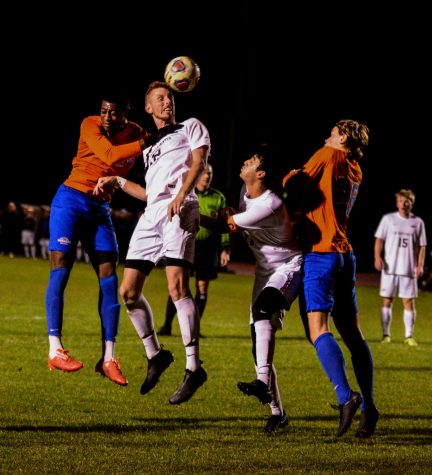 Grace Holler

It was a game where the Warhawks needed to get off to a good start against the ranked Pioneers, and in the fourth minute the ball found the net on a corner kick sent in by senior midfielder Kyle Clancy which was thrusted in the goal off the head of junior forward Hozai Ceballos.
The Warhawk defense was one of the biggest reasons for their victory. UW-Platteville registered one shot on goal during the game in the 43rd minute as it was saved by freshman goalkeeper Jake King.
Platteville was shut down in the midfield all game and nearly every take they had was pushed to the outskirts and eventually turned over.
Once halftime came and went, the game turned very physical with Platteville receiving four yellow cards in a 15-minute span. Despite the hostility the Warhawks were able to keep their composure in the 57th minute when Clancy put another corner kick into the box finding Ceballos to put the Warhawks up 2-0, his second goal of the contest and 11th of the season.
Although the Pioneers were pressing to get back into a match with a quick goal, the Warhawk defense, led by senior defender Jack Wirth, was water-tight and limited Platteville to only two second half shots.
It would not be senior night if not all the Warhawks seniors got on the scoresheet, and Monson scored in the 81st minute off a throw-in with assists from Wirth and Ceballos.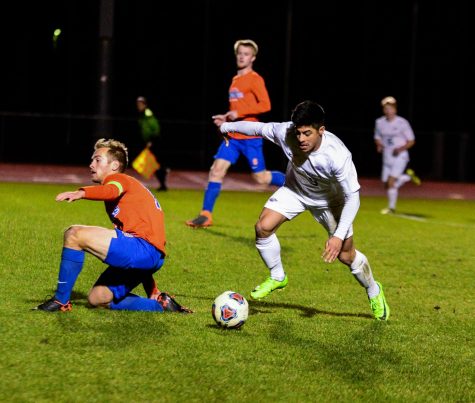 Grace Holler

Because all three seniors had contributed in the score sheet, the result seemed fitting.
"With all three seniors scoring  it was a special night," Clancy said. "This is what we do. We play a team game, and we got the win."
The final buzzer sounded, and the team rushed the field to hoist the Shaymus Guinn Cup.
Finishing the regular season strong, the Warhawks will have to wait and see their NCAA Tournament fate on Monday's selection show.
Regardless of the team's future, head coach Tony Guinn was pleased to have his season end this way for his team and especially his three seniors.
"The kids played their hearts out and they gave great effort," Guinn said. "This was a beautiful ending for these three seniors tonight getting to play at home against your rival, and win the cup."