First annual Building Bridges event a learning experience for all involved
Everyone had something to learn at the inaugural Building Bridges event at the University of Wisconsin-Whitewater on Nov. 1.
The event was more than just another networking opportunity on campus according to organizer Annie LaValley.
"It's more than just a career fair," she said.
Students were treated to a keynote speaker, UW-Whitewater alumni panels that answered questions about careers and educational sessions about graduate school.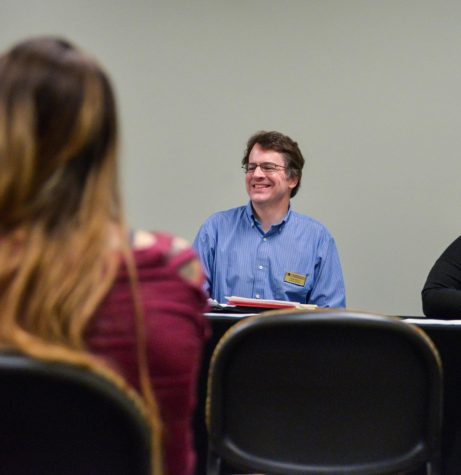 The new event was geared towards students in the college of letters and sciences majoring in psychology, social work, criminology, sociology and women's and gender studies.
And while it wasn't a career fair, the event still brought in more than 30 businesses to showcase to students career opportunities in the field.
"We wanted to make it an educational opportunity in addition to an opportunity for students to connect with employers and internships," LaValley said.
She said the goal of the event was threefold.
"The goals are to expose students to the diversity of opportunities that await them, to impress upon them that a career is more than just a job and to show them that helpers are everywhere," LaValley said.
Rock County Human Services, a group focused on child protective services in Rock County, hosted a booth at the event hoping to inform students and find some interns said employee Valerie Alvarez.
They agreed to be part of the first-annual event because of last experiences with Warhawks.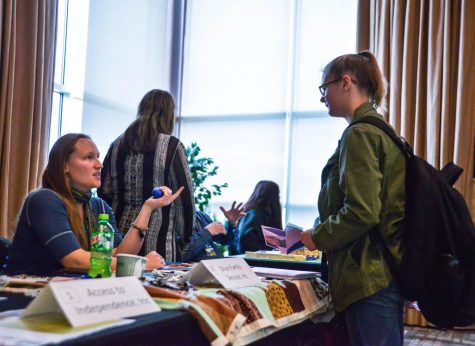 Grace Holler
"We take a lot of interns from UW-Whitewater because their education is always really sound, and we appreciate the values they bring," Alvarez said.
One of those students looking for a job Thursday was Sam Amadou, a sophomore social work major.
"I want to work with kids, and there's lots of businesses here that do that. I like talking with them one-on-one because they know exactly what they're doing, and they're doing what I want to do when I graduate," he said.
Even though it's the first year of the event, Amadou hopes it becomes an annual thing.
"It's really eye opening because they know exactly what they're talking about, and you can take something apart from school that they can teach you. I hope they do this again," Amadou said.
While the event didn't see as many students as they hoped for, LaValley said the hope is to make it an annual showing and make some adjustments based off of what they learned from the inaugural event. A future goal is to expand the event to all colleges and majors.
"Our hope was to have more students coming through the program, and I think the lesson we learned is to not have the event during midterms. I think it's gone well for the first one."