Wisconsin business leads innovation for farming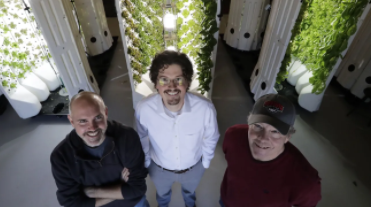 Representatives from Fork Farms, an indoor farm which focuses on healthy and sustainable food, visited UW-Whitewater Feb. 20 to discuss new methods of healthy eating and living a happy life. 
Alex Tyink became involved in the world of healthy and sustainable farming through a friend who was growing produce on the roof of an apartment complex in New York.
"That lettuce changed my life forever," said Tyink. "It made me think that it could happen to other people. It helped me, and we could help others."
Tyink's friend became involved in an agriculture technology craze, and the two began to practice hydroponic farming. Hydroponic farming is the practice of growing plants without soil, rather you add nutrients directly into the water supply. As water runs down the panels to wet the roots, it is also feeding the plants. 
"We all have had that fork in the road where we have to make a decision, and I was not really equipped at the time, I didn't have a business degree or anything, but I decided to do it and hoped to learn something," said Tyink.
Tyink said he was fortunate to be able to work alongside people who were truly educated in the field and that his mentors helped fund his product and eventually his company Fork Farms, headquartered in Appleton, which aims to use their patented technology to grow fresh food fast.
"My prototype was funded by good people hoping to see something good happen," said Tyink.
With that funding he was able to help create The Flex Farms Gen 3, the latest model that Fork Farms produced.
The Flex Farms Gen 3 model is currently priced at $2,700 to about $3,700. Their marketing is geared toward partners with large organizations that are looking to get to the future of nutrition.
As of now Fork Farms is partnering with mainly educational institutions, like one of their most recent buyers A'viands, which provides the food on campus here at UW-Whitewater.
It took Fork Farms around a decade to get to their Flex Farm Gen 3 which could be the product that takes them to the next level, "It took such a long time to get here because we had to over complicate in order to simplify it" said Tyink.
The amount of time that needs to be dedicated to the Flex Farm is about half hour to an hour, and in about a month you can have about 30 pounds of leafy greens to use. Fork Farms is trying to improve the lives of people all around the world.