Leaving Your Mark On Campus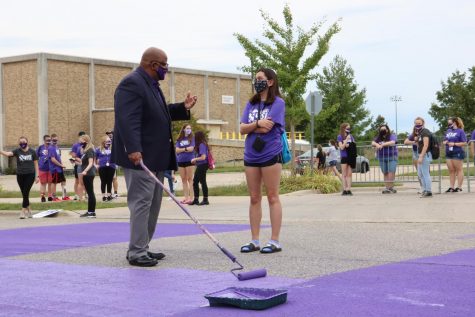 New incoming freshman and transfer students had the opportunity to leave their mark on campus by painting Warhawk Drive purple Monday, Aug 1. 
While a virtual Warhawk Welcome continued, it was an exciting in-person experience. Paint it Purple is a Warhawk tradition where new students are able to make friends as they begin their year at UW-Whitewater. 
"This experience has been great. Once I got on campus this was all I was looking forward to do," said freshman Brennen Tofson. 
Even with new rules and regulations in place due to the pandemic, the new students managed to get a fun experience out of it. Lots of Hawk Squad leaders, including Danielle Klais, helped make the moment memorable. 
"I know everyone today is having a pretty good time. It really brings people closer together and is something they can talk about," said Klais. "You'll get the paint on your shoes, in your hair, in your clothes, but it's something you can look at two years later and say 'I remember that day.'" 
The tradition is curated for transfer and first-year students, making them the main focus of the day. Paint it Purple is an opportunity to make new friends, begin to feel more comfortable, and of course to have fun. 
"This is the first in-person event for transfer students. It helped me meet new people and faculty members that may help me down the road," said Andy Dominguez, a transfer student from McHenry County College. 
The event was coordinated by the First-Year Experience (FYE) staff who guide new students through their transition to campus. With some new restrictions, FYE made this tradition possible.
"I need to give all credit to Marie Hornickle, assistant director for FYE, because she is very much thinking outside the box and being very detail-oriented. So instead of a 2-hour event, it was a full-day event," said director Beth John. "Each group comes and they have a thirty-minute time slot. They have to wear masks and they have to be physically distanced when they're painting the road."
The event also handled the sanitation process with care. After each person took the time to paint, the brushes would be wiped down, everyone used hand sanitizer, and of course, everyone was wearing masks.
Throughout the years, Warhawk Welcome has been more engaging for students, but with Covid-19 it has been accommodated in a new way. Even so, students are still able to make the best out of it. Thanks to a dedicated staff, this tradition was able to continue. Everyone had fun and made memories that will last a lifetime.