Former all-american gymnast reflects on her Whitewater career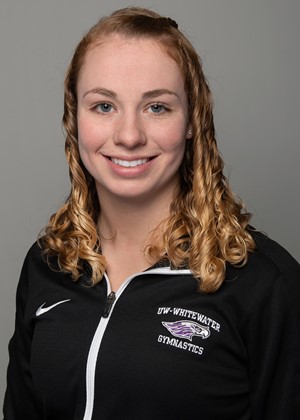 Former All-American gymnast, Erika Briscoe had one incredible career at UW-Whitewater. Briscoe's journey was not the typical transition many college athletes have to take to get where they want to be. Even taking time away from a sport to realize the passion it can bring out. Briscoe held an incredible career that Whitewater will remember for a long time.
When did you start gymnastics, and was it a passion for you right away?
I started about as soon as I could walk. I then kind of grew away from it for a little bit and took a break from it when I was about ten until I was fifteen. Then all of a sudden I remembered I loved gymnastics and came back to the sport, and my passion was even bigger.
How was the journey getting to UW-Whitewater, as you were at previous colleges beforehand?
I took that big break when I was a little bit older, so I was not quite ready when it was time to start looking at colleges. I went to Hamline, and I enjoyed it but it was not the environment I was looking for. I came back home to actually train to do Elite gymnastics for a couple years, which is the highest level. Then going from there I knew I wanted a little more of a competitive environment, and that is when I found Whitewater and it ended up being a really good fit.
Was the transition difficult at all from growing up in Iowa to coming to Wisconsin?
Not so much, especially being at Whitewater I came from a small town in Iowa and Whitewater is pretty small. I really like the small town feel and that is what drew me there.
What was your favorite event you participated in since you were All Around, and would compete in all of the events?
My favorite event would be floor. It usually went back and forth between beam and floor depending on which one was going better that day.
How did it feel to be recognized for multiple All American awards and an All Championship spot for vault?
It was really cool, I just felt a lot of my hard work had paid off. It was definitely a tough journey getting there, and it takes a lot of time and commitment. It was awesome to show that I spent all this time working on it and something finally came out of it.
What was your favorite memory of being a part of the UW-Whitewater gymnastics team?
Probably winning nationals my first year that was super cool, as we overcame a lot of adversity that year. We were able to come out on top which was awesome because we were able to come together as a group to secure that championship.
What have you been up to since you last competed at UW-Whitewater in 2019?
I actually coach gymnastics now, and I am back at Iowa coaching at the gym I grew up at. I just took a new position here, and I am now the Director of Elite Gymnastics here, so it is pretty cool and I am glad I can stay within the sport too.
What's your advice for the gymnastics team while dealing with the COVID situation, especially after the National Championships were cancelled last March?
Just keep working hard and stay committed. Always good things come out of working hard, it is not always an easy path. I went through a lot of adversity and overcame a lot of obstacles through my career. If you keep working hard through it and stay committed, usually something really awesome comes out of that.