Campus, community and civic engagement
Collegiate DECA state president represents UW-W with pride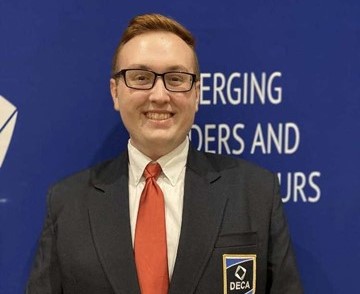 University students are always encouraged to join organizations that can help improve their future. Distributive Education Clubs of America (DECA) helps students make connections in the professional world while still earning an education.
UW-Whitewater has one of the largest chapters of DECA, and the newly appointed state president of the collegiate level Devontae Sisk is proud to fly the Warhawk flag. Every day he passionately spreads the word about DECA and encourages people to get involved.
So what exactly is DECA?
When you ask people about DECA, they might say a number of different things. A lot of them will say it's a student ran business, marketing organization that prepares student leaders in the fields of hospitality, tourism, finance, general business, accounting and list all of our events. For me, I would say that DECA is about the three C's. It's about the campus, the community and civic engagement. Here, it's about networking and getting you prepared for your future career, kind of giving you those professional skills so you can be able to go on interviews and talk so you are able to network like the professional.
How did you personally get involved in DECA?
I started out in DECA my sophomore year of high school and then throughout that I gained chapter leadership there. Then when I came here to Whitewater, I didn't know that Whitewater was the best chapter in the state and that we had the largest chapter. So, my freshman and sophomore year I was involved and then this year, my junior year, I ran for state and I got this position as president.
Do you have anyone that oversees or is it entirely student run?
We do have people that are there for us two people. We rely on them when we do events and competitions. Then we have a statewide association adviser, but he has 18 classes this semester, so he and his wife are divvying up the responsibilities.
What are your responsibilities as collegiate president?
I'm coordinating and facilitating. I'm also delegating. I'm really just sitting in my room planning events that different chapters can do, at least do what helps them gain recognition. I'm also still trying to contact chapters and chapter advisers in our e-boards. I have three vice presidents and myself who are very involved and we're trying our hardest, but we're all pretty new at this. We're all juniors right now right and we're literally running a statewide organization.
Do you personally hold all the meetings then? And are they online right now because of the pandemic?
So, the Whitewater chapter is holding them over Webex and Zoom, but at the state level I am using the Webex program. So what I do is more of a behind the scene thing then, and we don't really hold that many meeting face to face, especially right now, because there's a lot of different schools that aren't in person, so they don't have their leadership in place. There are only a few colleges, like Green Bay that actually have their organizations set up and ready to go. Right now, I was doing Webex calls with my team, but from there we're going to hold stuff more regularly. Or all the chapters to attend online because of all this stuff, we can't do anything in person.
Are you in charge of making plans for the future of DECA, or are you just the head organizer?
So, the way that DECA is set up is that there's DECA incorporated and then there's DECA high school, Wisconsin DECA, collegiate DECA and collegiate DECA at the chapter level. I'm head at the state level for collegiate DECA in Wisconsin. So I plan state events like our regional competition, state competition. I'm also trying to revitalize the association of Wisconsin DECA, because in the past, there been times where they haven't really done much, so our social media presence is getting increased and I'm updating the website. A lot of people think it's easy and I realized it's not, there were so many dead ends and so many broken things that I had to go through and fix. And then with everything else we're just trying to push forward more content. What I'm in charge of is making sure that, as a resource for all these different chapters, we're doing our jobs.
DECA's focus of helping students explore careers with hands-on training, networking and various other activities will help them excel in fields such as management, business and hospitality. With Sisk as the new collegiate president, they will have someone advocating for them every step of the way.