Watson back in action with campus address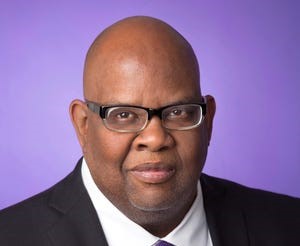 Chancellor Dwight Watson addressed students, faculty and staff for the first time since his return from leave Monday, Oct. 4 in a virtual Chancellor Chat. Watson resumes chancellor responsibilities after his month-long hiatus, expressing gratitude and thanks to the Chancellor's Cabinet for taking over in his absence. Looking forward, there is optimism in the continuation of the semester. 
"Even though the experience was personally harrowing, I know that it is behind us and we can move on. I applaud the system for moving us through this quickly and of course for coming forth with the results of this accusation," said Watson.
Transitions of positions were allocated back into place. Interim Provost Greg Cook is back in his role, as well as Dean John Chenowith of the College of Business and Economics along with Assistant Dean Paul Ambrose. 
The collaborative efforts will now focus on COVID-19 efforts, the university budget and enrollment. 
Cook gave an update on enrollment rates for fall 2020. The current enrollment at UW-Whitewater is 513 students short of last fall and 93 short at Rock County. However, there is an increase in graduate students and online programs. Overall it is a 5 percent decrease, which significantly impacts the tuition revenue and budget. 
"Given where we expected we would be last spring and early summer, these are pretty good numbers," said Cook. "Experts nationally and in Wisconsin were concerned that many students, due to the COVID situation, would take a gap year and our enrollment would be down much more substantially, like 10, 15, or even 20 percent." 
The positive cases for COVID-19 on campus have decreased. The numbers were turned around in comparison to the beginning of the semester. Students and the public can track these numbers on the COVID-19 Dashboard. 
 "We have administered today 862 PCR tests with a 26.2 positivity rate and 1,512 antigen tests with a 3.5 percent positivity rate," said Vice-Chancellor of Student Affairs Artanya Wesley.
 Wesley also announced that two weeks ago a comprehensive testing plan was developed, reviewed, and approved by the Cabinet. It is currently in the process of determining the components of the plan. Increasing the two testing locations to four, increasing testing from 150 students to 360 students per day, and setting up a pop-up testing clinic are all under consideration.
Student participation in tests has continued to be encouraged. 
"Pop-up testing clinics for targeted student populations to go where students are. Connecting incentives to testing such as receiving a free cookie, a slice of pizza, to encourage our students to eagerly participate and engage," said Wesley.
Assessing a trial run of evening hours for testing will also be included. 
The recent appointee of Vice Chancellor of Academic Affairs Trayn Carothers gave an update on the budget. This year, the university has experienced revenue loss and increased expenses due to COVID-19.
The Warhawk Technology fund has raised $40,000 which enhances the Technology Lending Library program that gives students access to laptops, wifi hotspots, and other resources. These resources help students succeed in their online classes wherever they may be. Another valuable resource to students is the Warhawk QuaranTeam project launched last week. This project encourages students to participate in antigen testing and gives students comfort as they quarantine. 
Efforts from all angles are being implemented as the Warhawk Community continues the semester. Taking notice of the work of the Cabinet and giving suggestions or questions are encouraged. To find out more about programs, budgets, and new projects that happen on campus, tune in to future Chancellor Chats and Town Hall meetings.