What will spring bring?
Academic Staff Assembly meeting
The University of Wisconsin Whitewater's Academic Staff Assembly met for a meeting to address concerns surrounding student attendance during face-to-face classes and what it could result in for the upcoming spring semester.
The meeting began Oct. 21 addressing both the staff and student's greatest concerns, which is wondering what the spring 2021 semester might bring for face-to-face classes. It was brought up that this semester student attendance during face-to-face class time has dropped immensely. Some classes where there are 20 to 30 students have only around four students – if any- show up in the physical classroom, while the rest stream online.
Attendees of the meeting believe that the main reason for this is that students are frustrated.
"We are not going to leave a student high and dry," said Patricia Fragola. 
The staff recognized that the case is not that all students just are skipping class. For some, the last-minute switch to remote classrooms messed with schedules and fall semester plans. Students are now struggling with managing in-person and online classes, which sometimes may overlap each other.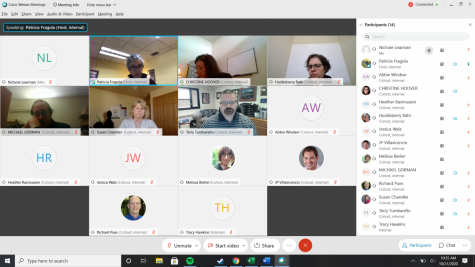 "They want to be in the classroom," said Terry Tumbarello.
Some students want to be in what they call a "real class" – in the classroom and engaged, which is not happening for some. When students attend remote classes there may not be a spectator. Instructors too may be having difficulty engaging students through technology. For students not knowing what an online class is like, not physically meeting their instructor may feel like they don't know them at all. 
"We need to engage students and be transparent with them," said Jessica Walz.
It is still unknown what the spring semester will bring, but it is clear that the university's academic staff are ready and willing to help students in any reality – bet that physical or virtual.