Warhawks win on the mat in home opener
The UW-Whitewater wrestling team pulled off a huge victory Friday, Feb. 12, defeating UW-Stevens Point by a close margin of 20-18 at the season home opener. 
The night started out well for the Warhawks with a 7-1 decision win of 125 points from freshman Alex Barbarise. Then the Pointers put together two straight wins before the Warhawks were able to come back with a 16 – 6 major decision at 149 for a match win by Jake Burford. 
Next, the Pointers continued their dominance roll with three straight match wins to take a significant lead. The momentum looked like it would not end for Stevens Point especially with an early pin in the 7th match by Ben Kasten. John Johnson, the head coach for Stevens Point, was thrilled by the team's top performer.
"For us, Ben Kasten. He wrestled with intensity and pushed the pace until he got the pin," said Johnson.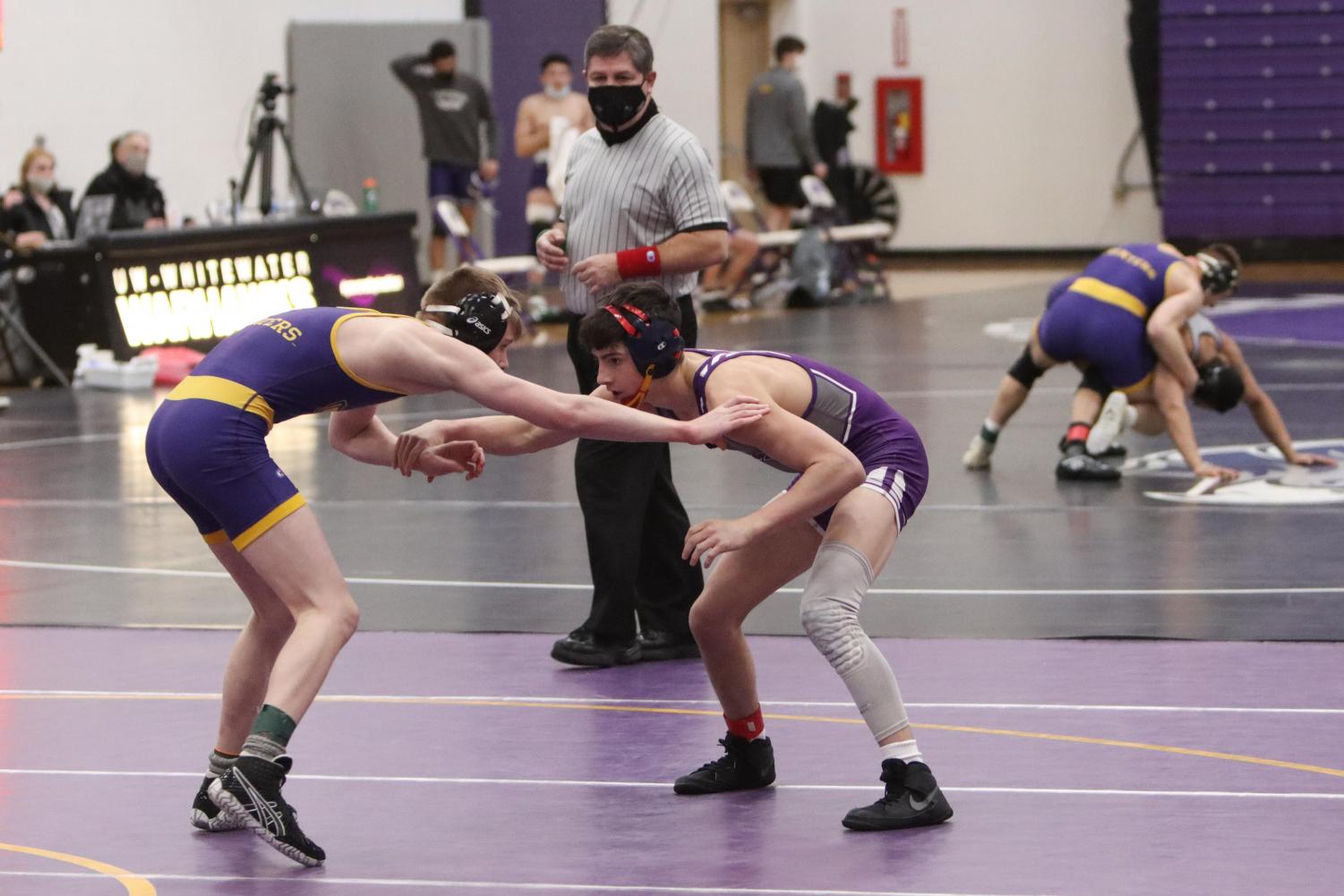 But the pin would not be enough, because the Warhawks were again able to put together three straight huge match wins by their junior lineup. Jaritt Shinhoster posted a win by fall following a second-period takedown. Ryan Vedner picked up a 5-1 decision thanks to takedowns in the second and third periods. Dylan Uzumecki completed the Warhawks' comeback, tallying an 11-1 major decision with nearfalls in the second and third. 
"We are ready for competition and we train harder than anyone," Uzumecki said.
The Warhawks will try to keep the momentum going when they face UW-Eau Claire Tuesday, Feb. 9.
Results: UW-Whitewater 20, UW-Stevens Point 18
125: Alex Barbarise (Antioch, Ill./Antioch Community) d. Blaze Thurber (UWSP) by decision, 7-1
133: Matt Berlin (UWSP) d. Ethan Pogorzelski (Menomonee Falls, Wis./Menomonee Falls) by decision, 8-3
141: Colin Barker (UWSP) d. Josiah Lynden (Mukwonago, Wis./Mukwonago) by decision, 5-4
149: Jake Burford (Crown Point, Ind./Crown Point) d. Isaiah Baker (UWSP) by major decision, 16-6
157: Luke Smiley (UWSP) d. Isaiah Mohmed (Valparaiso, Ind./Wheeler) by decision, 9-4
165: Brandon Peckham (UWSP) d. Tommy Hoy (Wauconda, Ill./Carmel Catholic) by decision, 4-3
174: Ben Kasten (UWSP) d. Chad Richards (Loves Park, Ill./Harlem) by fall, 4:38
184: Jaritt Shinhoster (Hoffman Estates, Ill./Barrington) d. Taran Holland (UWSP) by fall, 4:33
197: Ryan Vedner (Arlington Heights, Ill./Prospect) d. Jerry Lipke (UWSP) by decision, 5-1
285: Dylan Uzumecki (Batavia, Ill./Batavia) d. Ben Gunderson (UWSP) by major decision, 11-1