Quartet strums up a beat
From the Star Wars theme song to a waltz by Mozart – The Pecatonica String Quartet had a song for every flavor at it's Community Connections Concert Series performance Saturday, Feb. 27. The group put on an upbeat show for the Whitewater community, which was live both in-person and online.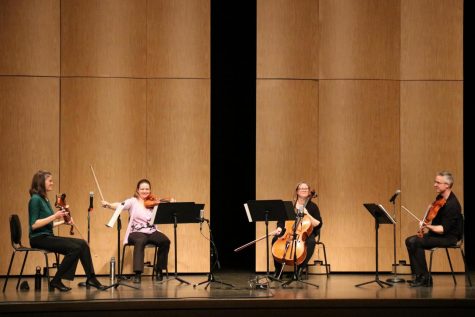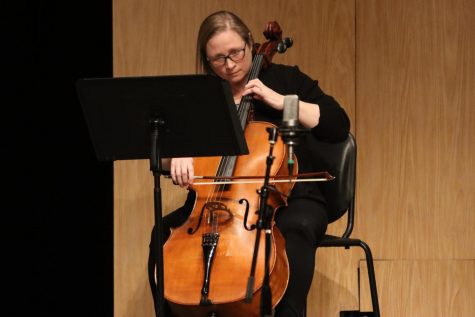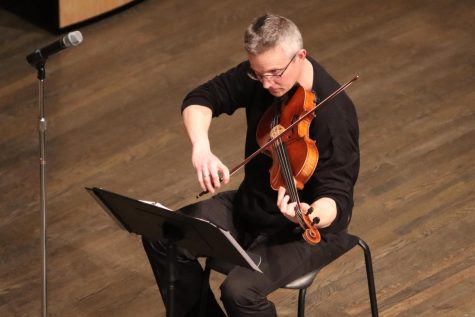 The performance featured classic and well-known songs that could be enjoyed by a wide range of audiences. The violins, viola and cello of the quartet put on an intimate show for the limited 50 seats in the Young Auditorium, as well as for online viewers who watched for free or gave optional donations courtesy of DLK Enterprises.
"It's like a VIP concert with a limited audience," said violinist Amber Dolphin. "While preparing for the concert we have to be ready for less or no applause." 
But there was plenty of clapping at the concert. 
The group kicked off the show with the Star Wars theme song, immediately bringing smiles to everyone in the crowd. It then acted as a time machine going back in history to Mozart, then to the 20th Century with "Sweet Child o' Mine" and "Take On Me," and back to the present. The band delivered a strong performance and forged unity among the crowd through sound. Audience members were smiling, laughing and clapping along through each piece. 
The quartet included violinists Amber Dolphin and Carol Carlson, cellist Maggie Townsend, and Christopher Dororyst on the viola. The members all have master's degrees in classical work, but excelled in popular hits as well during the show. 
"They have something for everyone. They go from timeless classic works to modern jazz, pop and songs you hear on the radio today," said marketing specialist Aaron Wesolowski. "We're so happy to have them perform for the community."
More information on Young Auditorium performances visit https://www.uww.edu/youngauditorium.