Miracles do happen
Tissues required for watching The Miracle Season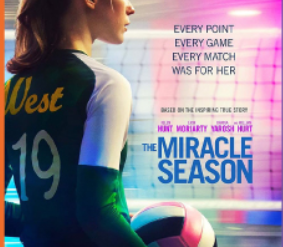 After losing their first game of the season, the Iowa West high school volleyball team must now deal with an even bigger loss. The girls volleyball team lost their setter, but more importantly than friend Caroline Found, in a tragic death. The team must now find a way to come together and make another run at a state championship for their beloved teammate. 
The Miracle Season is a movie that is sure to touch your heart. The 2018 film is based on a true story of an average Iowa town mourning the loss of a well loved community member. After coming off of a championship season, the girls of West High were looking forward to making another run. Only this time, they'll have to do it without their captain Caroline Found. 
It takes a while for the girls to get going again. In fact, after coming off 10 straight losses, nine of which were forfeits, the team almost quit the season. However, they decided Caroline would want them to go out and compete. While the whole team is certainly mourning, it affects her best friend Kelley the most. Kelley must now step up and be the team's setter, arguably the most important position in volleyball. 
As you could imagine, the film features many tear-jerking moments. Overall, the actors did a good job portraying their real life counterparts. The film also did well capturing the true essence of sports – after deciding to play their season again, they didn't just step back into championship form. They were sad, distracted and didn't have their hearts in the game. However, they turned that sorrow into motivation and a win for Caroline. Although players felt as if they fell out of love with volleyball, by the end of the movie they rekindled that love for the game and made another run at state for Caroline. 
Overall, I would recommend this movie to anyone – not just those who love sports. While the volleyball action is exciting, the movie is so much more than that of a typical sports movie. I would also recommend bringing a box of tissues, as this movie is sure to connect with your emotional side.