Wellness in nature
Sustainability Office kicks off Earth Month
The UW-W Office of Sustainability office "Wellness in the Nature Preserve" sessions focused on yoga with yoga instructor Brienne Brown. The event also included guided meditation and a mindfulness prairie walk led by Sustainability Director, Welsey Enterline.
On Saturday, April 3 students gathered at the Lawcon Shelter and Nature Preserve on the north end of the campus to attend. The event allowed 35 students to register and nearly all the slots were filled. 
"It intended to break out of our [COVID-19] hibernation in some way, the main incentive was to just get outside," said Enterline.
The event also focused on mental health, which was especially important to the sustainability office after the year students have endured, Enterline said.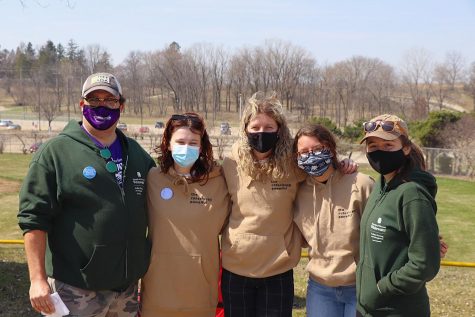 Participants browsed exhibitor tables featuring various health and wellness resources. The UHCS, CHIP, and Active Minds volunteered for the event.
"We had an activity on our table called leaf stigma behind," said Active Minds President Kelsey Pacetti.
The different color leafs represented different mental illnesses and each participant added their leaf to the tree symbolizing leaving mental illness stigmas behind. 
"Nature plays an overall role in a person's wellbeing," Pacetti said. The added component that Active Minds added to the nature preserve resulted in a mindful experience for those involved.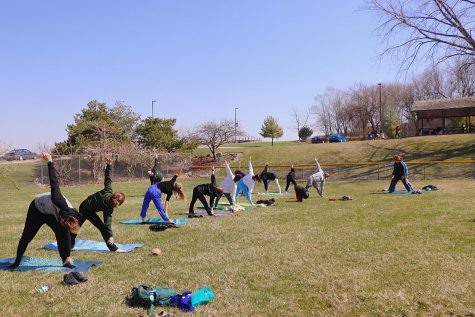 "I got to take some time for myself and practice self-care and wellness that was needed," said Pacetti.
Students were encouraged to take in their surroundings throughout the preserve walk. The event was a time to step away from the digital world that has consumed the lives of students. 
If the students wanted to they could also participate in "earthing," sometimes also referred to as "grounding." This is a moment where people place their bare feet on the surface of the planet.
According to drweil.com, "A handful of small studies have found that grounding appears to provide some general health benefits, such as better sleep, less pain, reduced stress and tension, and better immune function."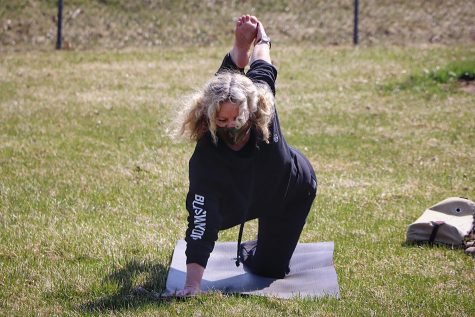 The sustainability office works with academic engagement, such as the wellness in the nature preserve. However, operational sustainability is another one of their focus areas.
"We work within facility planning and management to make changes to the way we maintain and operate the university to lower our overall environmental footprint. Things like that would include energy efficiency, improving recycling and things of that nature," said Enterline.
Throughout the rest of Earth Month, the office offers more events that students will be able to participate in. They will have: 
Virtual Sustainability BINGO! On Thurs. April 12 hosted online
Trash Clean-Up on Tues. April 13 -from 3:00-6:00 p.m.
Reusable Bag Decorating on Wed. April 14 from 11:00 a.m. to 4:00 p.m.
Prairie Tour on Thurs. April 15 from 5:00-6:00 p.m. 
And wrapping up the month with Arbor Day Tree Planting on Fri. April 30 at 12:00 p.m.
If unable to make these events students are encouraged to participate in outdoor volunteer opportunities that kicked off in April. These can be found on the UWW-Sustainability website. 
People can also do individualized work. 
"Something as simple as going around the community and picking up trash," said Enterline.