You can't hide anything from Chris Carter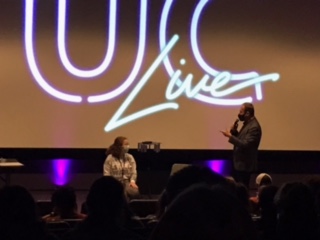 It was a mind blowing night for Whitewater students watching Chris Carter's "The Hypnotist" in Summer's Auditorium at the University Center September 9.
Carter was introduced as having performed at over 3,000 colleges across the country practicing his bewildering mind tricks, powers of suggestion, and hypnosis – while taking the opportunity to crack a few jokes along the way. 
"It never gets old. I love my job!" exclaimed Carter to the audience. 
In the first part of the show, Carter performed a card reading trick with an audience male member who picked a random card from Carter's deck. The participant then telepathically had to tell Carter the number and the suit. And if you were wondering if Carter guessed the right card, he did! The crowd of 180 masked students were stunned as the hypnotist slowly announced the card to the audience. Nervous laughter and cheers rang through the dark auditorium as the male participant went back to his seat. He then had several other audience members participate in card tricks and then the night got even more mental!
Carter then asked if any of the audience members had ever been hypnotized before? Three people raised their hands. He carefully selected one of the three, a female participant named Sophia who claimed that she had been hypnotized by a YouTube video a few weeks beforehand.
Carter successfully hypnotized her, asking her to raise her body slowly as he made the sound of an air pump. 
After hypnotizing an audience member, Carter then moved on to a series of tricks he performed while having two silver dollar coins duct taped to his face and blind folded which included guessing words people wrote down and guessing objects from the audience that he couldn't touch. His final trick was asking the audience members to write on a piece of paper their name, something about themselves, a number, and a question. He then randomly selected five and yes,…he got them all right!
"It was really interesting to experience seeing a hypnotist live on stage," said audience member Alyssa Schuyler. "This was very unique because it was like a comedy/magic show. I would definitely see him again!"
Needless to say, the audience was left mystified by Carter's performance. One thing is for certain, you can't hide anything from Chris Carter.