Women's soccer wins 3-1 victory over Auggies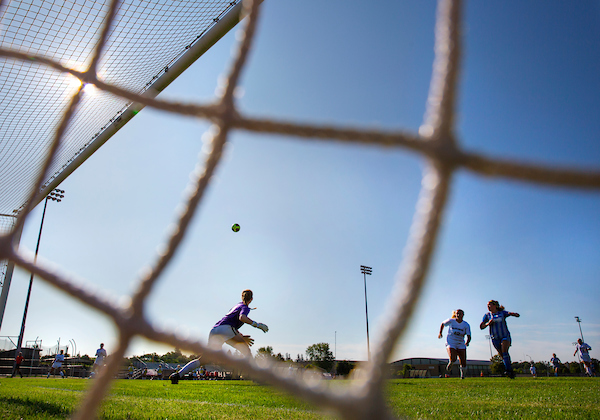 Two goals by Anna Brodjian and one by Olivia May gave the Whitewater women's soccer team a 3-1 win against Augsburg University (MN) at Fiskum Field on Saturday night. Whitewater improved their record to 5-3-0 on the season, while Augsburg fell to 4-3-1.
Brodjian, Whitewater's leading scorer, scored her seventh goal of the season in the 23rd minute on a corner kick from defender Katie Swenson, and her eighth goal in the 63rd minute. With an assist on the night as well, Brodjian credited her success tonight, and on the season, to the teamwork displayed by the Warhawks.
"The way we work, we move together so well," stated Brodjian, who is now tied for No. 10 in the nation in total goals. "It allows me to play how I want to." "If my teammates weren't there for me, I wouldn't have been able to have done this. I owe it all to them."
Navarre: 'Not Enough' Preparation
Saturday's contest was only the second meeting ever between the two programs. Their last, and only, match took place in September 1996, when the Auggies defeated the Warhawks 2-0 in Minneapolis, Minnesota. Coach Mike Navarre stated that the program did not do enough preparation for the Warhawks following the loss.
"I knew they were going to be a good team. I thought it was going to be a closer game than it ended up being," Navarre said. "I watched them on film and talked to a couple coaches, and we knew number 10 (Brodjian) was going to be difficult." "In these big games like this, you just can't have individual breakdowns, and we had some tonight."
Warhawks Hold Bobaric Scoreless
Heading into Saturday night's game, Augsburg forward Jennifer Bobaric had scored seven of the program's eight total goals on the season. Bobaric had never scored heading into the season, crediting being comfortable on the field as the reason behind her new-found success.
"I think it's just getting comfortable and trying to have fun with it. Not everyone gets to be out here and play these games, so it's fun to be able to leave it all out on the field and try to have as much fun with my teammates as possible," said Bobaric.
Bobaric was not able to find that same success on the field on Saturday, posting zero goals and zero shots in 72 minutes played.
"I think our mindset was not exactly the best it could have been coming into the game. We just couldn't get the ball rolling the way we needed to."
Warhawks' coach Ryan Quamme expressed his gratitude for defender Katy Kusswurm, who spent much of the night defending Bobaric.
"We knew she's a natural finisher and she's got great pace, so she was definitely a key part of our gameplan," said Quamme, who's entering his 10th season as Whitewater's head coach.
"We just wanted to get good pressure on her and make sure we had somebody to cover her. I thought the ladies did an excellent job."
Upcoming Schedule
Following Saturday's victory, the Warhawks will remain at home to face Viterbo University (WI) at 6 p.m. on Tuesday, Sept. 28. Viterbo enters this matchup with a 7-2-0 record this season, winning their last six matches. 
"We needed to have a quality win against a quality opponent, which Augsburg is, to build our season," stated Quamme. "We've been in some of those games and just haven't finished early in the year. Now it's momentum. Now we gotta get focused on Tuesday."