Iranian Wisconsinite communicates across cultures through art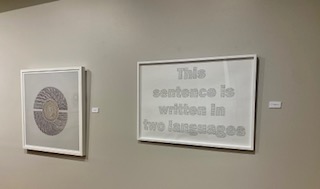 Nina Ghanbarzadeh is an artist from Tehran, Iran who moved to the United States in 2001. Her unique artwork integrates two very different languages and two very different cultures. Her pieces focus on the beauty of the languages Farsi and English while using precise and clean lines. When observing the exhibit, her perfectly detailed work stood out to me. The use of creative materials in her art was apparent. In one of her pieces called, "Night," she uses acrylic and carpet tacks on a Gatorfoam board to present her work. The neutral shades bring in the audience to explore and visualize the pieces through their own interpretation and creativity. 
One of my favorite pieces in the exhibit is, "This sentence is written in two languages." It uses both the Farsi and English language to write out a sentence. The art piece consists of a white background while the words that are written in Farsi and English pop out to the audience. The beauty in this piece were the languages combining to make one important message.
"My drawings exist at the intersection of modernist abstraction (of both Persian and Western influence) and contemporary conceptual art," Ghanbarzadeh says.
Ghanbarzadeh's exhibit shows her appreciation and love toward the blending of different cultures. "For the Love of Alif Baa" was one of my favorite exhibits yet. The colors in each piece stood out to me and gave a clear message to the viewers. The art was unique, creative and beautiful.
Roberta's Art Gallery presents "For the Love of Alif Baa" from Dec.1 – 22, with an artist interview scheduled for Dec. 8 at 5 p.m. For more information about the exhibit contact Roberta's Art Gallery at (262) 472-3193 or visit the website at Roberta's Art Gallery.