Winter sports wrap-up
The winter sports season was another successful one for the Warhawks. Both teams and individual athletes were able to advance deep into the rankings of their respective sport, even picking up some national honors along the way. It can be difficult to keep up with it all, and there are some really interesting stories that can be easily missed. Some of these seasons have not been fully completed yet, but all are deserving of recognition.
Women's Bowling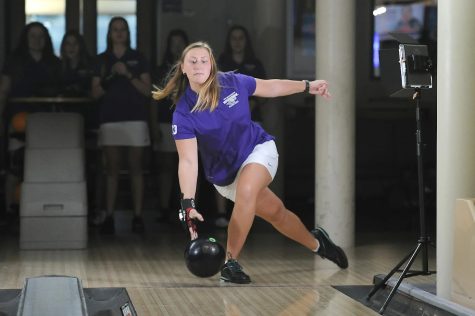 The Warhawk women's bowling team came in at 3rd for the National Tenpin Coaches Association February poll for Divisions II and III. While there is still a final bow that needs to be tied on the season, some of the performances that got them to this point should be highlighted.
The Warhawks placed 6th of 18 teams at the USBC Addison Sectional, sparked by a strong performance from Caitlin Mertins, who placed 1st individually. This strong performance included a score of 264 in one game, which seemed to be a perfect combination of mental focus and finding a groove.
"I came into Friday with the mindset of focusing on my own games, my own shots, and trying my best to have fun with it being my last time bowling singles. The pattern we bowled on happened to work in my favor tremendously, matching up to my equipment and the lines I excel at very well, and once I was on a roll of good shots it felt like I couldn't stop. For my 264 game, I had 11 strikes and 1 open in the 5th frame. After that open, I remember stepping up in my next shot and telling myself, 'get back to you.' I knew I had a great look and I was more than capable of finishing out a great game, and luckily I did. I am very proud of myself for never letting bad shots get to me and for staying in the moment of my own shots. Earlier in my collegiate career, every open felt like the end of the world and I would struggle to not compare myself to others. I am happy that I have grown from this and been able to exceed my own expectations," Mertins said.
The team will hopefully impress enough to get selected to NCAA nationals, but this season has a deeper meaning than just that outcome.
"This season has been by far my best performed season and I am very proud of myself for that. I have really used this year to give it all I can and close my time as a collegiate bowler in the best way possible. The sport of bowling is something I have been a part of for most of my life and I am so happy I found the opportunity of collegiate bowling to compete with some of the best in the country. I have met some of my best friends bowling for UW-Whitewater and I am so grateful to have my teammates as constant support in all areas of my life. When you compete, practice, workout, and live with your teammates they become a part of you and I know it's going to be really hard for me to leave the team and let go of anything that could have been. These have truly been the best 4 years of my life and I have an amazing team to thank for that," Mertins said.
Wrestling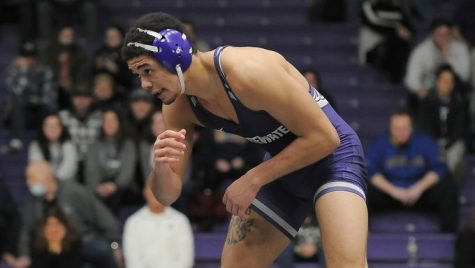 The wrestling team had an excellent season, ending with a 17th place finish at nationals powered by the national champion at 184 pounds, Jaritt Shinhoster. As only one of five Warhawks to ever accomplish this feat, Shinhoster was put in rare company and it came with incredible perspective.
"Well, when you put it into that perspective it feels amazing. I've submitted myself into the history of the program for the rest of the time. When I get older I'll be able to bring my kids back to Whitewater and show off my accomplishments. Other than that I feel like kind of the same person. Even after I won Nationals I always thought I would get this overwhelming sense of joy and euphoria but really I was just physically exhausted and happy. Honestly, this achievement wouldn't mean much without the support I had at Cedar Rapids. My coaches that have worked with me since the beginning, my parents and other family being there to support me, and all of my teammates you came down to be the really loud and obnoxious fans, cheering so loud that you couldn't hear the announcer. In my mind, this achievement was not done alone," Shinhoster said.
While the national champ has cemented himself into the history books of Whitewater, he also was able to give that satisfaction to others that had come close before him.
"After Nationals I was so tired I almost forgot to celebrate. But my coaches were definitely the first person I thought of after I won. The UWW wrestling coaching here has all of my respect and trust. Without them there would be no way I would've won. Also for the guys in my corner, one coach was a two time finalist at Whitewater and never won a national championship. Another coach had been in the finals three times as a coach for Whitewater and lost every finals match. And for my head coach, I would be his first national champion under his coaching. So, basically, I am saying that I'm honored to be here," Shinhoster said.
Track & Field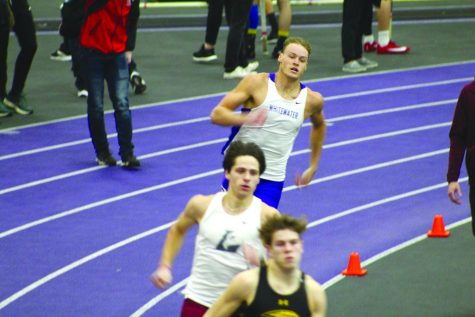 The track and field team had an incredible season. After the WIAC indoor championships and a 4th place finish, the Warhawks finished the season strong racking up six All-Americans and capping it off with a 10th place finish at nationals.
All-Americans included David Fassbender (distance), Shelvin Garrett II (horizontal jumps), Christian Patzka (distance), Gunner Schlender (distance), Daustin Martin (throws) and Gracie Holland (pole vault).
A ship is nothing without its captain, and one of the key leaders of this successful team is assistant coach Jeff Miller. He was named the Division III North Region Men's Assistant Coach of the Year by the United States Track and Field Cross Country Coaches Association for this season. Though his 40 years of experience has without question benefitted this team, it is the players, according to Miller, that make a coach stand out.
"The athletes have to perform in order to give the recognition to a coach. It's more what they're doing, and how they have been able to take the training we've been doing and putting it to good use and having really good outcomes…We just hope it's a reflection back on our program that we're trying to do the right things in our training in order for them to maximize their performances," Miller said.
These successful seasons were powered by some special individuals that contributed to excellent team finishes. This is a common theme for the Warhawks, but the blood, sweat and tears that go into these seasons year-round shouldn't be overlooked by supporters of these consistent high-achieving programs. This winter highlighted that once again, UW-Whitewater is upholding the tradition of winning.