Successful spring break trips for Warhawk Athletics
Over spring break many Warhawk teams kept busy and took trips south to compete against various teams from around the country. Warhawk baseball and softball spent time in Florida while both the men's and women's tennis teams competed in South Carolina. Combined the teams went 20-6 during their trips and both the tennis teams went undefeated. 
The baseball team played seven games at Blue Wahoos Stadium in Pensacola, Fla, where the Warhawks went 6-1. Ranked twelfth in the nation, the team's only defeat came against Division II foe West Florida in a 4-5 game. The team competed against teams from Tennessee, Kentucky, Iowa and one from Wisconsin. 
In their seven games Whitewater averaged 6.4 runs per game and only allowed 2.7 runs per game. Warhawk pitchers got the job done against Rhodes College (Tenn.), throwing two shutout games against the Lynx to open up the trip.
"Westin Muir tossed seven shutout innings for his first win of the year. He posted six strikeouts and allowed two hits and one walk in his performance," according to the UWW Sports website. 
Whitewater's bats got hot against Carroll University. Warhawk batters drove in 11 runs in the 11-3 victory. Right fielder Jacob DeMeyer was responsible for three runs, he drove in two and scored one of his own.
Warhawk softball played eleven games in Clermont, Fla., at the National Training Center Complex. The team went 6-5 after closing out the trip with a three game win streak. When the team won, they won big. Only two of their wins were by a margin of fewer than three runs. 
Krista Sbarra closed out the trip with a .516 batting average and eight runs batted in. The team finished the trip with a batting average of .309 and hit four home runs. They closed out the trip against Williams College (Mass.) with a 5-1 victory. Pitchers were able to help themselves with good pitching and batting. 
"Mallory Hollatz pitched all six innings to improve to 4-2 on the year. She scattered seven hits and stranded six runners, including two each in the second and fourth innings," according to the UWW sports website. 
The entire Whitewater tennis program, both the men and women, took a trip to Hilton Head Island, SC, to play competition from coast to coast. The No. 33 Warhawk women went 3-0 with wins over George Fox (Ore.), Union (NY.), and Wooster (Ohio). The men also went 3-0, defeating Union, Wooster, and Carleton (Minn.).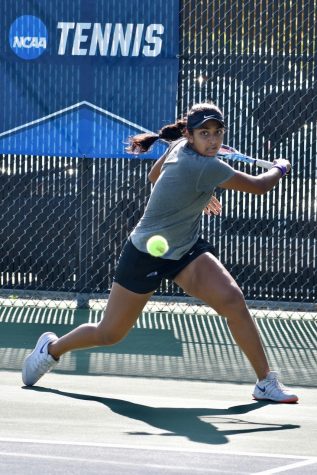 Autumn Bruno, the 40th ranked singles player in the country, dropped just seven games throughout her three singles matches. She also cruised in three victorious doubles matches with her partner Cassie Lee, the pair is ranked 16th in the nation. Overall, the women only dropped three matches as they won each of their duals by margins of five, nine and seven. 
The No. 34 Warhawk men's team shared a similar experience, they dropped just five matches between their three duals. In their final match of the trip, the men defeated rival Carleton College by a score of 6-3. 
The No. 17 doubles team in the nation, Alex Gray and John Zakowski, were able to win each of their three competitive matches. Zakowski lost his only singles match of the trip in a match tiebreak. Cole Lindwall, ranked No. 16 in the nation, went 2-1 in singles with one of his victories coming in a match tiebreak against Ioannis Binopoulos from Union. 
Spring break allowed for loads of competition and experience for Warhawk teams. Now they will set their sights on conference titles as baseball and softball near the opening of conference play. The tennis program will compete in mostly non conference competitions until championship season rolls around in April and May.