Founder's Day Awards feature past and present
 University of Wisconsin-Whitewater held its Founder's Day Awards Presentation in the Hamilton Room at the University Center for the first time in three years. During the ceremony, campus members first celebrated five present students awarding them scholarships for their academic achievements in their respective colleges. In addition, the past was honored as five former students were awarded the Outstanding Recent Alumni Awards.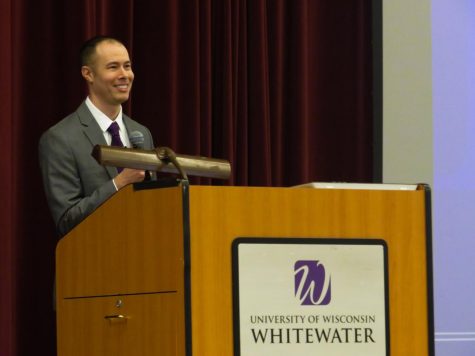 The five students that were awarded scholarships during this event were McClane Noffke in the College of Arts and Communication, Jackie Carper in the College of Business and Economics, Samantha Adler in the College of Education and Professional Studies, Natalie Shortreed in the College of Integrated Studies, and Abigail Lammers in the College of Letters and Sciences. 
This event was also one of the first events that new Interim Chancellor John Chenoweth led after former Interim Chancellor Jim Hendrickson resigned from his role, unexpectedly placing Chenoweth into the position. 
"This is a special moment where we get to recognize some outstanding alumni and outstanding students," Chenoweth said. "If you want to be inspired, you're in the right place. We all know how special UW-Whitewater is, and it is special because of its people; individuals like our honorees today, whose drive for excellence is remarkable. Our reputation as an institution is a lasting integrity, and it's built on the words and deeds of our faculty, our alumni, our staff, and our students, people who truly symbolize the values that are central to our university."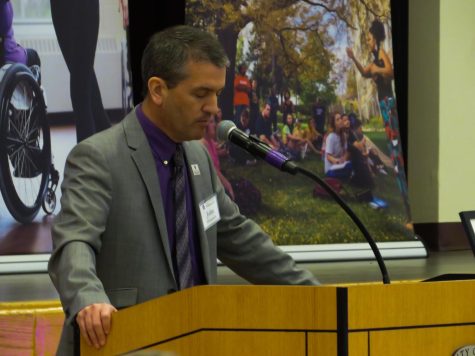 , Executive Director of University Marketing and Communications,The Outstanding Recent Alumni Awards are given to former students who have graduated within the last 15 years. The five were Dr. Christopher Maniece, Frederick Arndt, Amy Herbst, Howard Marklein and William Lowell. Each had different backgrounds and stories from their time during college, and it was shown when they had an opportunity to discuss these circumstances during the ceremony. 
Maniece already has four higher education degrees, including three from UW-Whitewater, and is on the road to getting his fifth in May of 2024. He currently serves as a school counselor at Jefferson Middle School in Madison with goals of becoming a principal and eventually a superintendent. 
"I cherish relationships," Maniece said. "My best friend, my parents, my fraternity brothers who are here with me today, my friends, and my girlfriend. I believe in equity and that every student must be college, career, and community ready." 
Arndt had a path that led him to the Vietnam War following graduation. He originally didn't know if he would make it to UW-Whitewater and struggled to find a specific role but ultimately found that by taking every English class he could find, including creative writing. After the war, Arndt worked in human resources before retiring and established a consulting practice dedicated to leadership and human resources.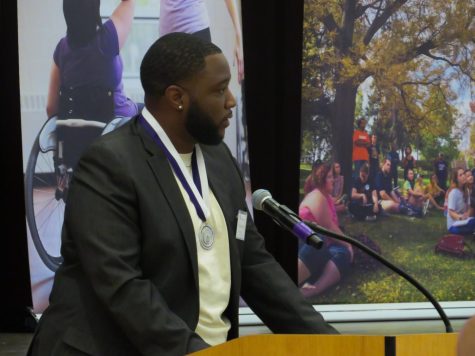 "My high school counselor said that, given my test scores, I wasn't really college material," Arndt said. "Work hard, think beyond the norm, challenge the status quo, learn continuously, have fun, don't take yourself too seriously, and do all of it with integrity." 
Herbst was the first in her immediate family to attend college, following some of her friends from her high school. She originally was undecided, but started taking social work classes and found her calling. Since graduation, she has worked in multiple leadership positions, including as recently as 2018, where she has held the role of Vice President, Mental and Behavioral Health at Children's Wisconsin. 
After graduating with a degree in Accounting, Marklein held roles of Chamber of Commerce in both Whitewater and Fort Atkinson. He was elected to the State Assembly in 2010 before being elected to the Wisconsin State Senate in 2014 and was re-elected in 2018. 
"I was able to take the opportunities that came up, whether that be in public service or business, and make the most of them," Marklein said. 
Lowell originally started at UW-Madison before transferring to UW-Whitewater for the small-school feel. Since graduating, he has been the recipient of the UW-Whitewater Excellence Award for Instructional Staff in 2008 and 2017. 
The Founder's Day Celebration was just that, but it was for a combination of the past alumni, current students and the future of the campus. There were plenty of memories shared between those who had attended UW-Whitewater and those who were present students – all proud of being a Warhawk.