Plant a tree
According to the National Forest Foundation, in one year 100 mature trees can remove 53 tons of carbon dioxide and 430 pounds of pollution from the atmosphere. In the U.S., forests only absorb 12 percent of total carbon emissions each year.
So while there is clearly work to be done, and there is no better time to spread awareness on the importance of planting trees than in the spring and summer months. UW-W sustainability students are busy planting trees on campus, educating other students on the importance of them, and also celebrating all of their hard work this school year.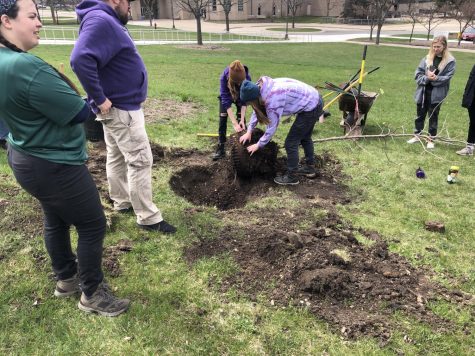 "Planting trees is good for the environment. It creates habitat, helps absorb carbon from the atmosphere, you know, helps fight climate change, it helps beautify, there's a lot of benefits to having shade just for kind of overall aesthetics," said Office of Sustainability Director Wesley Enterline. "So that's why we try to plant as much as we can in the middle of campus because, you know, when you're walking through campus you can enjoy the sites." 
Enterline is passing this message along to his sustainability students, and keeping this long standing Whitewater tradition going. Planting trees does not just exist to make up for past deforestation, there are future benefits as well. More trees makes our environment more resilient to climate change and although less of a problem in Wisconsin, wildfires.
"It's very important because it helps encourage people to plant more trees and do something good for their environment, their community, and planting trees. I mean, it's great. If you're too hot, plant a tree. You know? If it's too sunny, and you need some shade, plant a tree," said engagement intern Caroline French. "We had the opportunity to organize this tree planting, and the tree is actually dedicated to our interns of the past year. It's our first year after COVID, so it was a big deal."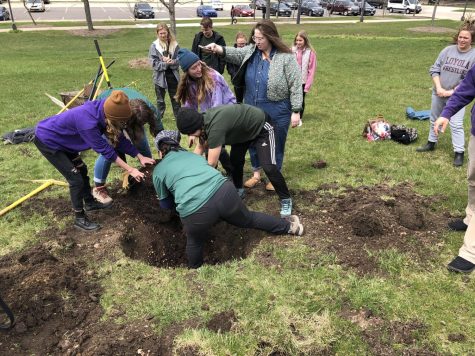 While the battle for a cleaner and healthier environment is difficult and will take time, one simple task that virtually everyone can contribute to is planting trees.