Delicious fall drinks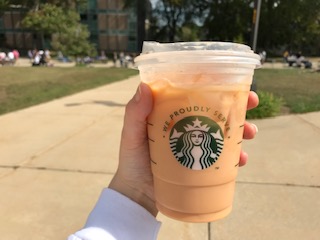 Looking for a spot to grab a drink and/or a quick bite to eat? Keep reading for a few on and off campus options that will satisfy those cravings as we head into fall. 
Center Street Cafe, LLC is located just off Main Street and it offers some of the best cookies out there – just make sure to wash them down with their Pumpkin Spice Latte served hot or iced. The café also offers an apple caramel coffee cake that screams fall. The service is friendly and the café itself is a great place to sit down and relax. 
A spot not to miss is Tealux – more specifically, the Brown Sugar Fresh Milk tea. This is the drink to order for anyone that has the "getting into the fall mood" on their to-do list. Warm fuzzy feelings will arise while drinking this cold drink!  
For those who are 21 and older, Second Salem Brewing Co. is the spot for Halloween drinks. With names like "Beast of Bray Road Amber Ale," "Bone Orchard IPA," and "Witchtower Pale Ale," that fact is undeniable. 
Although it isn't exactly what can be thought of when it comes to Autumn, McDonald's is bringing back its cheese danish for a limited time only. Be on the lookout for it starting September 14, 2022!
Don't want to leave campus? It's understandable to not want to go too far for a good drink or snack. If you need a Pumpkin Spice Latte on the way to class, Deloitte Café in Hyland Hall serves Starbucks products from Monday to Thursday from seven-thirty a.m. to two o'clock p.m. and Friday from seven-thirty a.m. to one o'clock p.m.
The University Center of the Arts has a build-your-own-sandwich bar in the CA Café. It is open Monday to Friday from eight o'clock a.m to three o'clock p.m., Friday being the only exception where they close at one o'clock instead of three.
Anderson Library's main level sells coffee for a quick pick-me-up while studying. Food For Thought is open Monday to Friday from eight-thirty a.m. to four o'clock p.m, Friday being the one exception where they close two hours earlier. 
Unfortunately, The Sideline Café at the William's center is closed with an undetermined opening date. However, it is exciting to know that smoothies will be served when it does reopen. 
Colectivo is a coffee brand based in Milwaukee that is served in UWW's very own University Center. Make sure to stop by Willie's to grab some coffee, pastries, and any snack you may need. It is open Monday through Thursday from seven o'clock a.m. to five o'clock p.m. Friday until four o'clock p.m, and Saturday from nine o'clock a.m. to four o'clock p.m.
Ike Schaffer Commons, also in the University Center, is now carrying bottled beverages during lunch. The hours of operation are Monday through Friday from seven o'clock a.m to ten-thirty p.m.
Jitters Coffee Shop, located in the Wells West and East building, is also a great option for coffee. As the weather gets cooler, you might want to take advantage of their hot chocolate and teas. Hours change every week, so check their website for updates!
In sustainability news, the refill program is back. This means that students and faculty are able to bring their own drink receptacles such as cups and mugs to refill their drip coffee order.