Small roster, big hearts
Women's Soccer Season Preview
 UW-Whitewater women's soccer began their season with a pair of games in Texas to kick off the 2022 season. The Warhawks suffered a loss to Mary Hardin Baylor 0-3 followed by a defensive battle that finished 0-0 to the powerhouse that is Hardin Simmons. After having finished their road trip with a record of 0-1-1, Head Coach Ryan Quamme is looking towards this season with optimism. 
Last season the women's soccer team finished with a record of 13-7, and ended their season in th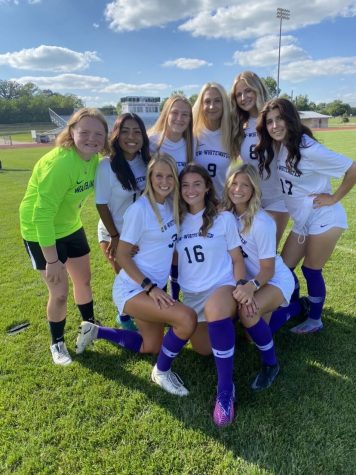 first round of the WIAC tournament with a hard fought battle against UW-Eau Claire. After a small amount of turnover in the lineup, the team will have a slightly different feel this year. 
"I think it is just going to be different. We had three fifth year seniors last year along with a few other seniors, so we are young in some areas but we also gained some experience in some other areas," Coach Quamme said."Generally we are a pretty young team but this group has a great attitude and they work really hard."
In addition to the new young faces on the team the overall roster is considerably smaller than last season. Sophomore Forward Taylor Carlson explained how this slight difference has already had its impact on the team, but not in the way you might think. 
"Last year we had around 40 athletes, but this year we only have about 25. I think this makes a big difference, because we all have been getting along much better, we all feel more involved and like we have a role on the team," Carlson said. "I think we have a lot of strengths this year, through our first few games our communication has already been better than last year and our practices have been really strong."
The team will be faced with one of the hardest schedules of the last decade. Coach Quamme described it as the most difficult schedule in his fourteen year tenure as the Warhawks head coach.
"The trip to Texas was against two power house teams, we will be playing Morris who
made it to the final four last year. Our conference has gotten better, especially in women's soccer. The WIAC has made huge strides in the last three or four years," Coach Quamme said. "We are going to play some tough teams and be tested especially in the conference. Hopefully we can stay healthy and gain some confidence along the way."
Despite the tough schedule, the team is already feeling confident. The Warhawks are determined to go farther than last year's first round exit in the conference tournament. For the returning athletes last season's disappointing end will be a source of motivation to outdo last year's performance.
"We just want to go farther than we did last year, last year we did not get the outcome we were hoping for and we ended our season pretty early," Taylor Carlson said. "We just want to go as far as we can and going into each game we obviously just want to win."
With a fresh new start to the season and more motivation than ever the expectations are high for the Warhawk women's soccer team within the locker room. Coach Quamme and the young group of athletes will tackle a tough schedule with hopes of surpassing last year's final results. The Warhawks will play their first home game at Robert Fiskum Field on Wednesday Sep. 14 at 5:00 against Luther (IA) this game will also honor Midfielder Sarah Clancy for Senior Night.