Men's soccer loses to Luther
Ryan Baker, Men's Sports Assistant Editor
September 18, 2022
The University of Wisconsin-Whitewater men's soccer team fell to Luther College  under the lights 2-1 at Fiskum Field Wednesday, Sept. 14. Coming into the game UW-W was 3-2 and looking to bounce back after a loss just three days prior. Meanwhile, Luther wanted to continue their undefeated, and rather dominant start to the season.
The game started off strong for both teams on the defensive side of the ball. The first half ended tied up at zero with only three total shots on goal between the two teams. There was a sense of temperament in the air due to the yellow card each team was issued in the first half.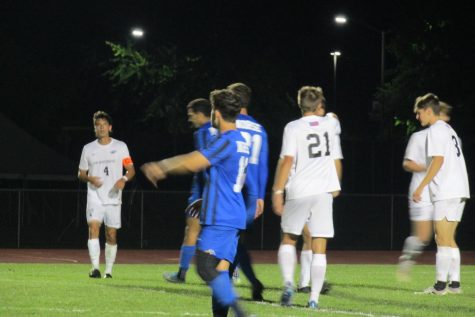 After the intermission, the tie was broken almost immediately by Luther. Having a set play design coming out of the half resulted in a goal just thirty seconds into the second half. However, the high intensity was still in the air when Luther was issued their second yellow card of the game.
Luther then added on to their lead at the 22:34 mark of the half with their second goal after an outstanding goal. Tempers were flying after the second goal bringing a fourth yellow card in the game, this time going against Whitewater.
While it seemed that Luther was going to complete their fifth shutout of the season, senior forward Jalen Holley put an end to it with a goal through traffic at the 4:45 mark of the second half. It was a tough goal that came off of a corner kick.
"When we play Luther it's always going to be a chippy game, we know that," Holley said. "We work on set pieces a lot so just trying to predict where the ball is going to come and then sticking with it, and putting the ball in the back of the net."
The Warhawks made a prolific effort at the end of the game, coming up just short of the equalizer with time expiring. Head Coach Tony Guinn admired the effort his team had all the way through until the clock hit zero.
"I'm always proud of our guys," Guinn said. "They work their tail off every game and every practice, and I couldn't be more proud of them."
Whitewater looks to bounce back after the 2-1 loss in a  rivalry game in just a few days on Wednesday, Sept. 21 against Loras College at Robert Fiskum Field.