Men's bowling flashes potential under new coach
The UW-Whitewater Men's Bowling team still shows promise after a major composition shift in the sport. Brandon Mooney has completed his first invite as the men's bowling coach following the retirement of Shawn Wochner who was in his position for 12 seasons. 
The Hammer Golden Eagle Invite took place this past Saturday the 24 and Sunday the 25. Whitewater competed against 13 other Junior Varsity teams and 19 other Varsity teams. The Warhawks had a strong start with Varsity and second for J.V. both originally being ranked in the top five mid-Saturday. Varsity ended up taking seventh place with an overall score of 8407. A score of 8093 allowed the second Whitewater J.V.  to take home the win. The first J.V. group followed closely, ranking fourth with a score of 7883. 
"It was a rough game to finish," stated Coach Mooney. "There's nothing you can do about it. You really gotta shake it off, forget about it, come back and try to make up for all the lost pins."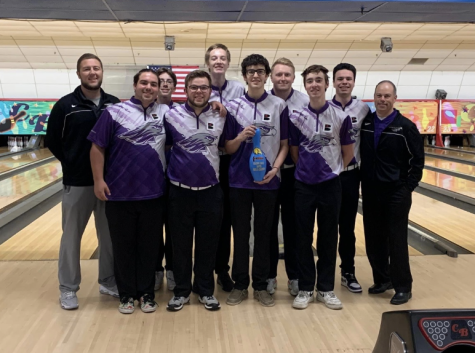 The success of the team under Wochner was apparent. The team took first place at the 2022 Intercollegiate Team Championships under his leadership. Despite this, the team appears to have full trust in Mooney as the new head coach.
'The cool thing about having a new coach that's been through the program before is that he understood our grievances with the way that our seasons went in years past, and I think he really understands what it's like to be in our shoes. To have someone that can make the changes – in that perspective – I think it's going to be a good year," said Junior Garrett Meadows.
Meadows, a returner to the team, was able to have an elevated average at 206.4, leading him to place 12th individually. 
"I think we had some rough patches, but for a really young team with some people who really haven't had much varsity experience, I think it went about as well as we could've hoped," said Meadows. "We really tried to communicate very well throughout the day, that wasn't where we lacked. I think we lacked decision-making. I think we just got a little confused. Overall, I think we can rebound off of today, and get back tomorrow."
Whitewater's Men's Bowling Team is now made up of majority Freshman, but the fresh faces to the team seem to be making an impact. Two underclassmen placed in the top 10 for the invite. Freshman Robert Vater had an average of 210 placing sixth, and Sophomore Rory Clark ranked ninth with an average of 207.4. 
"I'm pretty happy with my first tournament," Vater said. "I'm looking forward to just building throughout the rest of the season because this was my first one. I was a little nervous coming in.
Though it might not be the start they were expecting, Whitewater's Men's Bowling Team seems to be off to a good start. New members to the team are leading in their averages, and returners are making a mark for themselves as well. The team will be competing next at the Midwest Collegiate next Saturday and Sunday in Wauwatosa, WI.