Thriller keeps crowd in state of shock, unease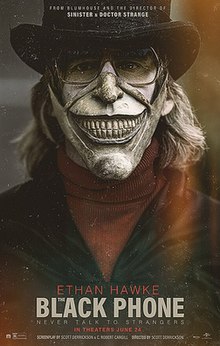 Ring. Ring. That's all you hear in the basement is a disconnected black phone. The suspenseful spooky movie The Black Phone stars Ethan Hawke as the Grabber, Mason Thames as Finney Blake, Madeleine McGraw as Gwen, and was directed by Scott Derrickson. Scott Derrickson directed the horror film Sinister who reunites with Ethan Hawke as the villain in this film. Finney Blake is a smart kid with his sister Gwen, but one day he walks home to see a van with a man named the Grabber kidnapping him. He wakes up in a basement to see the Grabber with a horrifying mask and sees there is  a disconnected black phone in the room. He finds out that he can hear voices of the previous dead victims through the phone and helps him live through this event. Either pick up the phone or be dead.
The movie was based on a short story called The Black Phone written by Stephen King's son, Joe Hill.  It was inspired by notorious serial killers just like John Wayne, but it wasn't based on a real life story. Scott Derrickson used inspirations on elements from his childhood which were on bullying, and abuse. Bullying can be seen as Finney would get bullied by three boys, beaten up, and the abuse can also be seen through his father. Finney's father is an alcoholic who would be angry and abuse his daughter Gwen. It was interesting to see how that played out in this film. Why it was interesting to see this be seen through the year of 1978 using these themes was that it was common in that time era and this also developed the main character's development in the film.
What really stands out the most in this film was Ethan Hawke's performance as the villain since every second he puts on that mask it feels horrifying and bone chilling. It would end up showing a different side of him and that character he brings out with that mask. That mask is what freaks the audience out and pulls them with his performance with each personality as he switches off with the mask. 
Mason Thames as Finney gave a great performance in this film as a boy that fights to survive and learns from the victims that he must change to survive. The movie was different due to being one of those films using storytelling over just jump scares, violence, and there are still those horror movie moments but uses storytelling too. 
The music scores worked perfectly with each scene it was being used with either for suspense, intense scenes, violent moments, or just songs that worked with the settings. 
There were Stephen King vibes that you would see from his movies or works which were interesting. It did feel a little slow at the beginning but it sets everything up for the story and character in the end. And it was interesting to see the suspense build up throughout the film while making the story satisfying for the audience and the main character.