UW-River Falls lands grant to research robotic milking
Falcon faculty to lead feasibility study by five U.S. universities
Sept. 15, 2022 — A research project led by a pair of University of Wisconsin-River Falls faculty members has the potential to change the face of the signature industry in America's Dairyland.
Assistant professors Luis Peña-Lévano and Shaheer Burney from UWRF's Agricultural Economics Department were recently awarded a $250,000 grant to study the financial, environmental and social impacts of adopting robotic milking on dairy farms.
While UW-River Falls is the home institution for the grant, the project is a collaboration with the University of Minnesota, University of Georgia, North Carolina State University and Texas A&M University.
Peña-Lévano and Burney hope the results of their research will guide dairy farmers in Wisconsin and Minnesota as they consider whether to make the significant investment necessary to transition to an automatic milking system (AMS).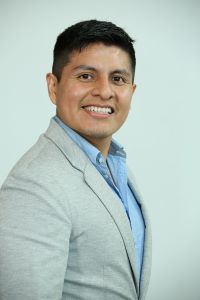 "Our goal is to evaluate the feasibility of AMS from the financial, environmental and labor demand perspective," said Burney, director of the UWRF's Survey Research Center. "Ultimately, we are trying to answer the question: 'Do the long-term benefits of adopting AMS exceed the high up-front cost of installing such systems?'"
The conclusions could guide farmers in a struggling industry in making a major decision with the potential to improve their profitability and possibly even their lifestyle.
Peña-Lévano said the seed for the grant proposal was planted by dairy farmers, many of whom have told UWRF faculty they are wrestling with the decision about whether to invest in robotic milking systems that can cost more than $200,000.
The UWRF team developed a preliminary grant proposal in consultation with farmers, lenders and others before submitting it in September 2021 to the Sustainable Agriculture Research and Education (SARE) program's North Central Region.
SARE is a producer-driven, decentralized competitive grants and education program that is funded by the U.S. Department of Agriculture's National Institute for Food and Agriculture. The organization's website indicates its mission is to advance agricultural innovations that improve profitability, stewardship and quality of life by investing in groundbreaking research and education.
UWRF learned in January that its proposal was one of 36 finalists out of 107 proposals. The university submitted its final application in March and was notified in July that its proposal would be one of 14 nationally to receive funding.
"As a first-year professor, it was a huge deal, not just for me but for all of those on my team that we got this grant on the first try," said Peña-Lévano, a native of Peru who joined UWRF's faculty in July 2021.
Likewise, Burney said he was "ecstatic" to learn UWRF was awarded what he referred to as a highly competitive grant that receives applications from researchers in many different disciplines.
The grant provides amazing opportunities for UWRF and highlights the research that faculty from the university's College of Agriculture, Food and Environmental Sciences (CAFES) are performing, said Brenda Boetel, chair of the Agricultural Economics Department.
"Luis and Shaheer have done a great job of leading this collaborative effort to provide research and educational opportunities for Wisconsin dairy producers," Boetel said.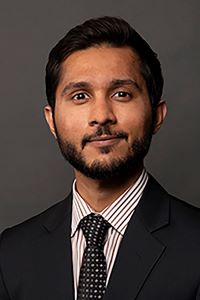 CAFES Dean Dale Gallenberg also expressed pride in the grant and what it says about UWRF.
"This project represents work fundamental to the mission and goals of the Dairy Innovation Hub in supporting the Wisconsin dairy industry, as well as leverages and extends DIH funds to include support from other sources," Gallenberg said. "The partnership with other larger land-grant institutions is especially noteworthy and demonstrates the quality and capacity of our faculty and their research here at UWRF."
Peña-Lévano and Burney said the significant contribution of their teammates from the partner institutions — Cesar Escalante (University of Georgia), Grace Melo (Texas A&M University), Alejandro Gutierrez-Li (North Carolina State University) and James Salfer (University of Minnesota) — were key to developing the successful grant proposal.
The project will use data collected from a large-scale survey of dairy farmers in Wisconsin and Minnesota. Plans call for paper questionnaires to be sent in January to 2,000 randomly selected farms by UWRF's Survey Research Center, which performs surveys for researchers and local governments across the country.
Three UWRF agricultural economics students will help develop the questionnaires and analyze the data.
"The students will be involved in every aspect of the project," Burney said, giving them a rare opportunity to get in on the ground floor of what their faculty mentors hope will be groundbreaking research with practical applications for farmers.
As a university with a well-regarded Survey Research Center and robust agricultural programs that has students hailing from rural areas across Wisconsin, many of whom are seeking to go back to the farm after graduation, UW-River Falls offers an ideal home base for the robotic milking analysis, Burney said.
"We have the perfect cocktail for this kind of research," he said.
The study, which Burney said already is creating a buzz in the dairy community, also will involve farmer interviews, focus groups and economic modeling with the support of an advisory committee, composed mostly of dairy farmers, that will meet regularly to evaluate the progress of the project.
A key objective for the researchers is to generate a guideline for farmers as to how long it typically takes for the investment in AMS to pay off.
While technology has changed farming dramatically over the past few decades, robotic milking has yet to become widely adopted even though it offers the potential promise of giving dairy farmers more flexible schedules and reducing their reliance on hard-to-find labor.
Studying those impacts is one of the exciting aspects of the research for Peña-Lévano, the project coordinator who also is chair-elect of the International Section of the Agricultural & Applied Economics Association and recipient of the 2022-23 Paul B. and Robert Dykstra Faculty Excellence Award from UWRF. Agriculture also is not immune from the labor shortage afflicting almost every industry, so using robots in place of traditional, labor-intensive milking production has the potential to alleviate that challenge and make dairy farms more resilient in the face of what economists predict will be a persistent issue, Peña-Lévano said.
The project also will explore the implications of milking robots on the environment and animal welfare.
While AMS offers a potential solution to many factors contributing to an exodus from the industry, that doesn't mean robotic milking will prove feasible for all dairy farms. Indeed, one of the project's goals is to determine the minimum herd size necessary for AMS to pay off.
"I do not have expectations because I like surprises," Peña-Lévano said. "Personally, I really want to know the answers, too."
Peña-Lévano said the plan is to complete the project by Oct. 31, 2024.
One thing the UWRF researchers know for sure is that they will share their findings with Wisconsin and Minnesota dairy farmers in hopes of helping them make informed decisions and improving the health of the industry.
"Our goal, first and foremost, is to provide that information for Midwest farmers, but it will absolutely be applicable for dairy farmers across the country," Burney said.
"That is one of the beautiful things about research," Peña-Lévano added. "It can be shared with others around the world."
Photos: Top left, assistant professor Luis Peña-Lévano; Bottom right, assistanct professor Shaheer Burney