Senior finds success on the fairway
Women's golf senior Ashton Sinak has received several awards throughout her five seasons at Whitewater. This season though she was recently awarded all WIAC second team, and has had a strong season overall. She was named Women's Golf Coaches Association All-American Scholar, had an average 18-hole score of 79.4 in 24 rounds played, was part of the sixth-lowest and ninth-lowest 18-hole team scores in program history, and much more just this season. Sinak says she's sad to see the season coming to an end, but she hopes to keep playing her best and making a point of enjoying what is left of the season. 
Q: You were recently named all WIAC second team, how does it feel to keep getting recognized for your golf accomplishments?
Ashton Sinak: I've had a few different awards and stuff in my seasons. I've been player of the week, all WIAC for the second team; I was first team a few years ago, and I was also Player of the Year my sophomore year. Being recognized for the success that I've had feels really good and I know like there's plenty of other girls like on my team as well who have been able to have stuff like that. It just shows all the hard work that I've put in has been paying off. And it feels good because it's one thing to be, you know, the one of the top players on the team and then it's another thing to be that within the whole conference because the whole conference is pretty competitive.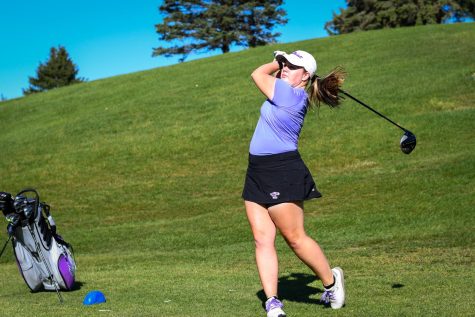 Q: How do you feel knowing that this is your last season?
Ashton Sinak:It's definitely, you know, bittersweet. I've been playing for five years here at Whitewater and I've loved every moment of it. It's one of those things you don't want to see it come to an end. But every good thing comes to an end. I'm just trying to really enjoy all of it just because I know there's not a whole lot left of it. 
Q: What has been your biggest trial?
Ashton Sinak:I think one of the biggest things that not only me, but lots of golfers experience is that it's really hard like mentally to get yourself through a five hour round of golf. It's something that you learn really well and we have a mental coach that helps us with that. It's really, really important because we all come into freshman year and we all know how to play golf, like we're all good. We've gotten this far but it's a lot different mentally and just how you're playing. Like recovering from bad shots and just being able to hang in there for a whole 18 holes is really difficult. So I think one thing that I found a huge difference in between my freshman year and now is definitely the mental game. 
Q: Who would you say has kind of been your biggest supporter throughout your athletic career?
Ashton Sinak:I would say it's definitely been my dad. He got me into golf and a couple other sports as well. And you know, he was my coach for a little while and for a few sports when I was younger, so he's kind of always been there wanting the best for me. My mom obviously has as well, but he'll always go out and play with me or practice with me and try to help me do as best I can. 
Q: What does it mean to you to be a Warhawk and how does the Whitewater athletics community support female athletes?
Ashton Sinak:It's just such a great community of people, whether it's through school or through athletics, there's just so many great people on this campus. Whether it's alumni or the current students or any staff, whoever it may be, I never have a problem running into really great people. Even Ryan Callahan, he is one of the best athletic directors I've had just because he's so hands on with everybody. Like a few years ago, when we were at the nationals tournament in Michigan, he came out and helped us because our assistant coach couldn't be there. So just doing little things like that really help us and make us feel like we're just as important as other teams that are here. It is hard because people don't really come to our tournaments and stuff just because we're not on campus. So having him show up to a home tournament last weekend or having some of the staff members show up and help us and stuff like that helps us feel like we're a part of the community even though we're not always on campus and around. And I think that just shows what Whitewater is. Everyone's always willing to help you and they want the best for what you are doing and I think that's really important.
Q: What have you learned from playing golf at Whitewater?
Ashton Sinak:I would say I think it's really important when you're in such a competitive environment to appreciate all the people and the things around you. Just because even though we're all still competing for the same spots and stuff like, our team is so close to each other and we all genuinely have really good relationships with each other. I think just putting it into perspective that yes, like we really want those spots, but also everybody wants to have a really enjoyable experience while we're here is important. And on the golf course, I would say it's to never give up because you never know what's going to happen. Whether that's in golf or anything else, you can't ever count yourself out of it because you never know what you're gonna be able to do if you put your mind to it.
Sinak says that she hopes to stay in the golf industry after graduation, although there's still some question as to what will happen once the season officially concludes. The WIAC championship took place on Oct. 7 through Oct. 9. Within the first two days she and the team claimed the lead, but the final results of the championship determine whether or not the team makes it to the Nationals tournament in the spring, which Sinak said she hopes the team achieves.