Creating 'Storytellers'
"If we went back to the basics, I would call myself a storyteller. It is my job, our job, to discover stories, and figure out why they matter and report them accurately," said Madison's Capital Times food editor and arts writer Lindsay Christans during her keynote speech during the Kettle Moraine Press Association's journalism conference on Oct. 14, 2022. 
At the beginning of the conference, over 400 high school students and advisors entered the University Center to receive awards for a range of publications during the 2021-2022 academic year. Awards were given to publications as a whole and to individuals in areas such as magazines, online releases, yearbook, layout, and graphic design. Students and advisors were also given the opportunity to attend different sessions around campus encouraging them to "go back to the basics," the theme for this year's conference. They were able to hear about leadership in publications, and how to strengthen areas of photography, writing, and interviewing. 
Kat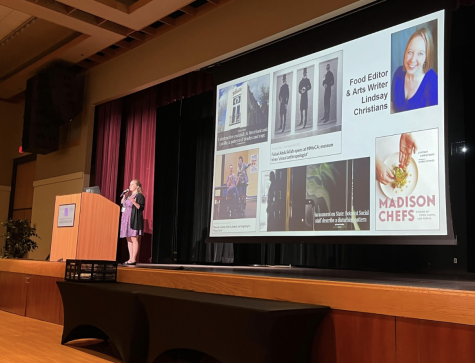 Ben Kingsbury, a high school senior who attended the conference, said his favorite session was Jeff Petrl's Tackling Controversial Topics. "It was really cool because he has been in the newspaper field for sometime. He shared different stories that he had done, and how to make your stories genuinely impactful, which I think is important because I think we see a lot of filler stories in high school publications," said Kingsbury. "I asked him how to find ideas for our stories. He said that without us, ideas die and don't get the coverage they deserve. That really stuck with me."
Other sessions included tours of the UW-W TV station and Royal Purple office, a look into the protection of journalistic laws in Wisconsin and Illinois, how to enhance podcast and website publications, bettering photography skills to enhance the message, writing reviews for different mediums, and different ethics of the media. While these sessions help students and advisors regain a basic foundation of journalism, they also helped build their own definitions as to why journalism is important in our world today.
"Why go into journalism now? I believe journalism is important- it is important that individual journalists continue to speak out and shine a light into the dark places. We are part of how things get better," said Christans. 
Following her speech, students and advisors were given the opportunity to reflect on their own reasons as to why journalism is important.
"I think journalism is important because people have stories to tell. There's a lot of platforms in our world, but people don't use them to amplify the stories," said Gianna Blasco, a high school journalist. "If it weren't for journalists going up to people and asking questions to get people to open up, I feel like that is the main reason we have these jobs. People have stories to tell, and journalists need to be the person to open them up and have those conversations to spread it to other people."
By the time the students and advisors left the UW-Whitewater campus, they had all been able to reflect on their ability to be a journalist, a storyteller, in their own communities and publications.
"We have to keep telling stories. Stories help us make sense of the world and each other," concluded Christans.