Football wins in packed Perk
Football vs Oshkosh Recap
Ryan Baker, Assistant Men's Sports Editor
October 16, 2022
The No. 3 UW-Whitewater football team (5-1, 3-0 WIAC) defeated No. 19 UW-Oshkosh (3-3, 1-2 WIAC) under the lights on Friday, Oct. 14. The 17-3 victory was the first home night game for the Warhawks since 2017 and was played in front of a crowd bigger than the entire town of Whitewater.
Head coach Kevin Bullis and his team like to say "Pack the Perk" every time the Warhawks come home to play. Well, Perkins Stadium was packed to the brim. The crowd set a new Division III record for highest attended on-campus game ever, it was also a conference and school record for attendance with 18,951 people showing out.
With games typically played on a Saturday, Evan Lewandowski and company suited up for Friday night lights for the first time since a lot of the players were in high school. It's a different atmosphere, different preparation, and a different mindset for these types of games, one would think. However, Bullis and his staff work incredibly hard to keep it the same.
"We work really hard to keep it exactly the same. All week, kind of a standing joke with the staff and the players, when it was a Monday, well no, it's a Tuesday. For us it was Tuesday," Bullis said. "Tuesday was Wednesday, but you do that because you don't want to make them feel like this is different. It's about keeping their routines and processes consistent, and the guys did a great job of it."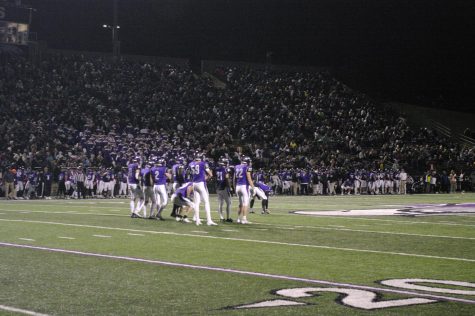 Whitewater was able to win in a defensively sound game. Sophomore defensive back Kyle Koelblinger was able to come down with a jump ball interception late in the second quarter, while the defensive front came up with six tackles for loss.
The Warhawk passing game was not as dominant as it had been in previous weeks, however the best rushing output of the season thus far carried the Warhawks to victory. Whitewater had 165 total rushing yards, Jaylon Edmonson tallied 107 of them on 21 attempts. Senior Preston Strasburg finished with two touchdowns of his own on the ground.
"We are a very unselfish group. It doesn't matter who is on the field for us, we would be just as happy for them," Strasburg said. "If it was Jaylon or Tamir scoring or anyone else, I would be just as happy for them. If they were in that situation tonight, I'm sure they would've scored too. Big credit to the o-line as well."
The offensive line has been developing and progressing all season, given the fact that they are an entirely new group of starters. They only allowed two tackles for loss, while also keeping Lewandowski's jersey clean all game.
Lewandowski was able to muster 156 passing yards on the night, with 59 of them coming on a fourth quarter deep pass to Tyler Holte, his longest reception of the season. Despite the spark from that play they were unable to capitalize and failed to score on that drive.
Now with a record of 5-1, riding a five game winning streak, the Warhawks will travel to UW-Platteville on Oct. 22, resuming their typical schedule throughout the week. Platteville, though 3-3 on the season, has defeated two top 15 opponents on their home turf and will be looking to make it three against the Warhawks.