Trick-or-treat!
Whitewater's annual main street trick-or-treat
All citizens make way because Halloween has knocked on Whitewater's front door. From dinosaurs, to aliens, to vampires, left and right, Halloween spirit has come to town. Whitewater held its annual Ghouls Night Out and has come back this year with double the candy.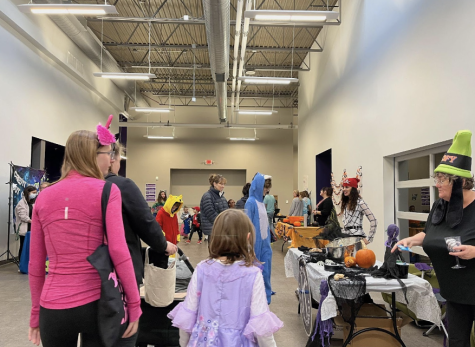 As we all know this past year's Ghouls Night Out was a bit different as we had to adjust to the safety protocols, in the attempts to prevent COVID-19. Instead of just a scavenger hunt this year, the Whitewater Chamber of Commerce and main street's local businesses were able to bring back the games, activities, and most importantly, the candy. 
Local businesses along Main Street from east to west of the downtown area of Whitewater were a part of the festivities. From The Book Teller, reading spooky stories, to a spooky themed art exhibit at the Cultural Arts Center. 
"I enjoy seeing the kids in their costumes and being able to hand out treats and make their day." says Maytag Laundry employee, Pam Brotzman.
Whitewater's Chamber of Commerce held a "Fright-or-Delight", an indoor trick-or-treating event at the Community Engagement Center. There, local businesses and organizations had spooky booths with candy and other goodies. There were booths from Whitewater High School's SADD program, the Whitewater Farmer's Market, Whitewater Grocery Co., and more.
Another location that participated in Ghouls Night Out was The Mulberry Glen. The Mulberry Glen is a campus for independent and assisted living along with memory care resources. They joined in on the spooky festivities with a raffle which was organized by Shantel Boss, the assistant executive director. This allowed kids a chance of winning prizes such as a bike or doll. Residents of Mulberry Glen also greeted kids as they trick-or-treated and even dressed up as well. Proving, no matter what age you are, there is no limit on dressing up for Halloween. 
"It's great to have the kids come out and have the residents sit and watch," said Chad Murphy, executive director of The Mulberry Glen, "We really like to be a part of the community." 
Everywhere you looked, kids and their families were making their way through the downtown area, making sure no candy was left untouched.
"Usually, when Ghouls Night Out happens the weather is super cold. Not only was the weather good this year, but each business was able to provide a safe and comfortable environment for the kids," said community member, Betzy Palomec.
And just in case all the games and candy were not enough, the Chamber of Commerce also had a "Halloween Symbol" scavenger hunt. Where a lot of the businesses "hid" a symbol at their location and those who found at least 10 of them were entered into a drawing for a prize.
Whitewater's Ghouls Night Out has yet again gathered kids, families, and community members together for a spooky night out on the town.