Rebuilding support for our veterans
Veteran's Day is a day for honoring those who have served and continue to serve our country. Part of honoring is giving support to veterans that seek out higher education after service. This is crucial as many veterans are non-traditional, and face many challenges between juggling school and work all while adapting back to civilian life. 
According to the U.S. Department of Veteran Affairs, 37% of part-time and 16% of full-time veteran students drop out within nine months of enrollment. Senior Mark Zimmerman retired after 20 years of service in the U.S. Navy, and is the current president of the newly formed UW-Whitewater Veterans Alliance. The organization evolved from the previous veterans organization on campus known as The Student Veterans Organization, of which Zimmerman originally was a member. Like many students during the pandemic, he found it hard to keep connected and sought out the veterans organization on campus during his second semester in the spring of 2021. Upon joining he found out the president of the organization was graduating that year, and then got him connected with people on campus to keep the organization going. However, by the fall of 2021, most of the Whitewater Veterans Organization members had graduated and it became inactive. In the spring of 2022, however, new members were established and the organization was able to be recognized again, this time under the current name.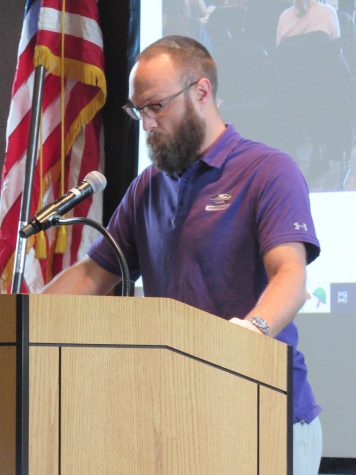 "It's not really as much a new club as it is a rebranding," said UW-W Veterans Alliance President Mark Zimmerman. "We named it the Veterans Alliance because of getting more involvement on campus between veterans and traditional students; creating those networks and building relationships." 
The organization itself now consists of eight members coming from several sects of the military that include the US Army, Navy, and Coast Guard. Zimmerman himself retired after 20 years of service in the U.S. Navy, and came to UW-W in 2020 to pursue a Bachelor of History Education with an adaptive education licensure. Zimmerman is now in his senior year, and is expected to graduate in the fall of 2023. He also plans to pursue a Masters in Higher Education Leadership with the hopes of helping veterans and non-traditional students like himself adapt to student and civilian life.
"I know how hard that transition was for me and sometimes just having that person on campus to know that they understand what you are going through," said Zimmerman. "That's a big portion of why I want to get into the Higher Education master's program." 
For the past couple of years the UW-Whitewater's student organizations on campus have faced tough times and some even faced the possibility of disbanding due to the difficulties brought on by the pandemic. Now with covid-restricitions lifted orgs can begin to start anew. With the help of Mark Zimmerman, advisors and devoted members, one of these orgs is the UW-Whitewater Veterans Alliance.