Volunteers gather to maintain park
As the years go by, our parks get older, and the brush surrounding them starts to get out of control. Due to this, the briars and weeds start taking up the nutrients that surrounding trees and more friendly plants need to survive. But the parks need people to come in and help cut the brush to maintain the beauty of the land so these plants can survive. And that is what the Natureland Park Fall Workday is for.
The Kettle Moraine Land Trust teamed up with the Walworth County groundskeeper crew and local volunteers to hike through Natureland Park to maintain the quality of the wooded area. The work included cutting brush and hauling away brush, removing any unwanted weeds, and making sure that the planted trees had enough space to grow.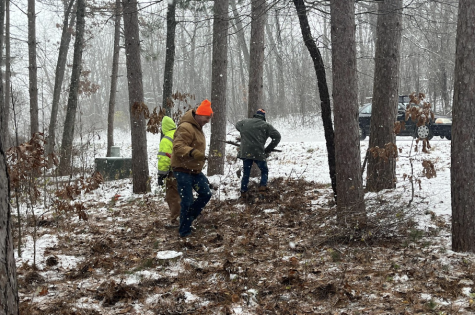 "The high quality of life here in Walworth County is because of our lakes, wetlands, woodlands, our open spaces and our farms. That is part of what we love about living in this region," said Kettle Moraine Land Trust Managing Director Rory Klick. "I think we have to proceed with an understanding that as there is development, there also needs to be active work to protect the open space that we have."
The Kettle Moraine Land Trust maintains a couple of parks around Walworth County, including Natureland Park and Price Park. The organization makes sure that the parks are clean and beautiful so that visitors have a chance to view the natural landscape without anything ruining the land. 
"It is important that the community gets out to see the work that is required to maintain these parks," said Walworth County groundskeeper Steve Messick. "They then feel a little bit of ownership with what is everybody's park."
With the help of volunteers from the community, our parks are able to maintain their beauty before the brush and garbage ruins them. Area parks include hiking trails, picnic areas, wildlife food plots, artisanal springs and other unique features of southern Wisconsin's natural landscape. 
"When we get people out to do a day like this, it is one small step in connecting the community with the land and getting them to appreciate the land," said Klick. "You don't preserve what you don't appreciate."