Welcome to the Opera!
The thought of performing classical music – especially opera – is frightening to most. The range of notes, tempo, and language barriers present in different works can lead to a sense of disconnect. What most fail to consider is, opera can impact many aspects of modern-day music. The 400-year-old genre has influenced popular songs, musical theater, and movie soundtracks all over the world.
The UW-Whitewater Vocal Department hosted its bi-annual Opera Workshop Showcase on Sunday, November 20th. Ten students displayed operatic songs written anywhere from the 1700s to the mid-1900s. Each student workshopped the song throughout the semester, which led to this final performance.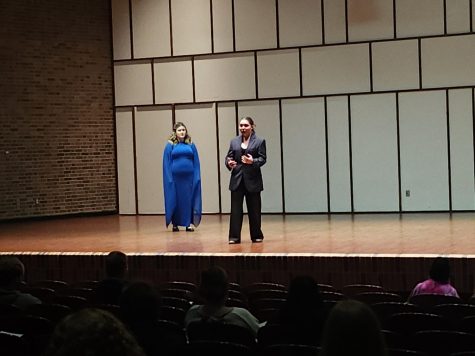 "How it started, was, we first got together and Brian Leeper said these were the scenes we'd be doing. Something I was excited for off the bat – he was showing us these videos – and my character is under the table for most of it. That was very exciting because I'm into physical comedy," said senior Japanese Studies major Robert Chelius.  
Chelius was a member of the performance's only trio, in Act III of Don Giovanni. In it, the protagonist Don Giovanni invites a statue to dinner not thinking it would answer the invasion. To his and his friend's surprise, the marble sculpture complies and tells Don Giovanni of his fate to go to hell. 
Students practicing their operatic vocal abilities were not the only ones performing on Sunday. In between each Opera Workshop performance, NATS Audition finalists performed their winning piece. 
Voice Instructor, Brian Leeper explains, "Students competed in the National Association of Teachers of Singing last weekend. It was universities from all across Wisconsin go and sing for judges. The top three people are finalists in each category, and they have a final round where they are awarded first, second or third place. All the singers together have placed in the top three in their divisions." 
Five students in total showcased their winning voices on Sunday. Jack Pfeiffer, Ian Black, and Emma Clarke all placed first in their respective freshman categories. Nahuel Recoba took home first in Junior/Senior Musical Theatre. 
"Preparing for it was hard. I only had the songs that I performed for that audition for about two months, so they're still pretty new. Honestly doing it again has been pretty great. After NATS, I took a break," said UWW Alumna Molly Wanless. 
Wanless graduated from UWW with a BFA in Vocal Performance in the Spring of 2022. She has continued to work with the Whitewater Music Department while she prepares for graduate school. She placed 3rd in the Advanced Graduate Treble/Tenor/Bass with her performance of "Quel guardo, il cavaliere…So anch'io la virtù magica."
"I'm hoping to use those pieces to go and audition for graduate school programs within the next couple of years. They're for post-baccalaureate opportunities. I wanted to do the graduate level because I'm preparing to audition for grad schools. It's been an opportunity to go out and perform them in front of people," said Wanless, "Every performance is an opportunity to discover something new about the piece."
Opera continues to influence our everyday life, and Whitewater vocal students are showcasing the best of their abilities. You will continue being able to find the highest of treble voices to the deepest bass in Whitewater's Vocal Department. 
For more information on upcoming Vocal Events please visit the Arts Events Page.