Despite noise Wrestling comes short
In a loud Kachel Gymnasium, No. 8 UW-Whitewater wrestling fell to No. 9 UW-Eau Claire. After matches concluded the teams were knotted up at 19 points and the Blugolds took a 20-19 victory thanks to tiebreakers.
The Warhawks had a number of strong performances and were able to get points when they needed them. However overall they fell just short of enough points to take the dual meet.
"We pride ourselves on being in good shape and we like taking people to deep water, where they get tired and you can see some people will quit when it gets hard on them," head coach Matt Zwaschka said.
The meet was opened with a big event, headlined by two of the top wrestlers in the nation. The Warhawks defending national champion and second ranked Jarrit Shinhoster took on tenth ranked Niall Schoenfelder. Just by watching the match, you would not know that the two were so closely ranked.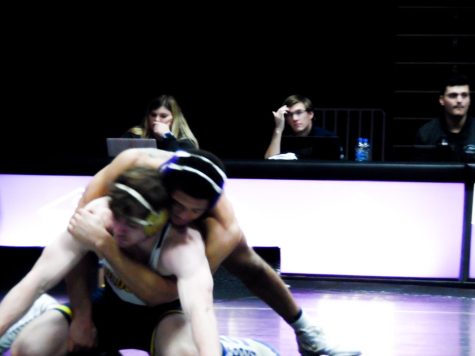 The 184 pound Shinhoster started strong from the first whistle, going right after Schoenfelder and getting a quick lead. In the end, Shinhoster won 15-4, which was the largest margin of victory across all of the matches. His clear cut victory was the first of a number of times that the fans loudly cheered in their Warhawks.
Despite that, always looking to improve, Shinhoster almost looked back on the match as if he lost.
"I wrestled him last year and I knew he was tough on top but I thought I improved better so I thought I could turn him but I should've just focused on takedowns," Shinhoster said. "I'm not used to starting first, so it was harder, it just felt weird and different. I feel like there's a lot I can improve on."
In the 149 weight class, Eau Claire's No. 15 in the country Zach Sato held a late lead over No.3 in the nation Jake Burford. With a take down and a hard fight to survive, Whitewater's Burford was able to come from behind and win 11-10. The win put Whitewater ahead in total points, and the gym erupted.
After Eau Claire tied the match again, Whitewater was in need of another big fighter. Ryan Vedner delivered another late push for a win. In the 165 weight class, Vedner took down tenth ranked Tristan Massie. His 6-4 overtime win sent the fans into a frenzy as the Warhawks took the lead in the overall match.
Unfortunately for the Warhawks, Ryan Riser was defeated 5-2 by Jared Stricker, tying the match and giving the Blugolds the victory via tiebreakers.
No matter the score, it seemed as if Shinhoster was always the first one on his feet cheering and coaching his teammates.
"I got that from my dad, he was a coach, he coached me when I was younger. Pretty much when I'm yelling out there it's a spitting image of how he coaches high school kids," Shinhoster said. "I just love cheering on my teammates, they make me so excited to wrestle. That's why I like being one of the last ones, I get hyped up watching them."
Shinhoster and his fellow Warhawks will be headed to Nashville, Tennessee, Saturday Dec. 17 to compete at the Gator Boots Duals. The team will also be at the National Wrestling Coaches Association Duals on the first Friday and Saturday of 2023 in Louisville, Kentucky.