Track & Field eager for records
Olga Gatesi, Assistant Men's Sports Editor
January 22, 2023
The UW-Whitewater men's Track & Field team will look to pick up right where it left off as the team builds off last year's various All-Americans and all around strong performances.
Shelvin Garrett II is a two-time All-American in the triple jump and second team All-WIAC in the 4×100-meter relay (2021) and indoor triple jump (2022). He expressed his frustration with finishing second in his previous season. He enters this year hoping for it to be the one when he successfully sets a personal record and manages to bring the trophy home for the Warhawks.
"I used my off-season to get myself ready for the season in order to fulfill my aims and dreams," Garrett said. "For the first time over a break, I trained on campus. Which undoubtedly helped a lot because I had such incredible training facilities and wouldn't feel like I was starting over after a long break."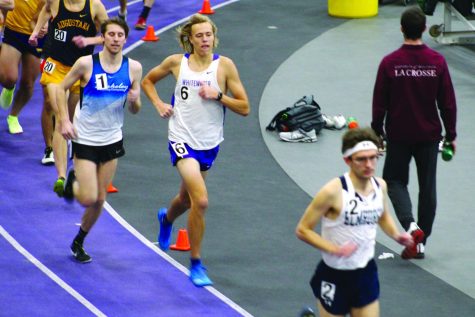 Track is a very individually focused sport. It's nothing like soccer or basketball. In spite of the arguments against track as a sport tailored to individuals rather than a team, according to the athletes, their teammates are always there for them as they try to balance their social lives, sports, and academic obligations. Track is more than just a sport for them, it is a social activity as well.
 "For the purpose of checking on one another and attempting to make it feel more like a team, we are introducing team goals and team meetings. To check in with everyone and in order to support everyone in the best way they need to be supported throughout the season," said Garrett. 
Christian Patzka is another one of the highly decorated returning Warhawks. His skills on the cross country course help him get ready for the long distance track events. Beyond his skills, he and his long distance teammates have worked hard to create a close bond.
"We long-distance runners have strengthened our team ties and will continue to do so in a variety of ways. Since the majority of the distance runners share a house and train together, we are rather close to one another," said Patzka.
With his honorable mention All-WIAC in the 5,000-meter run (outdoor 2022) and four-time USTFCCCA All-Region accolades, Patzka is welcomed back as one of the Warhawks most important contributors this season. Additionally, Patzka set a school record in the outdoor 5,000-meter race (14:15.21 in 2022).
On Friday, Jan. 27, in Whitewater, the team will compete in the Squig Converse Invitational. Both Garrett and Patzka have high expectations for the upcoming season and anticipate success for both themselves and the team as a whole.