Gymnastics awaiting NCGA qualifiers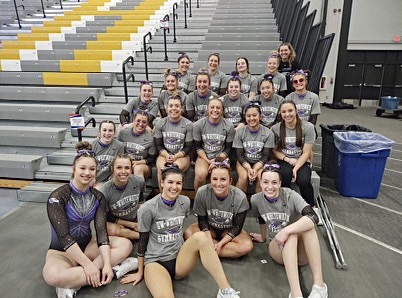 The UW-Whitewater women's gymnastics team competed in the WIAC conference meet which was also the NCGA West Regional on Saturday Mar. 12. The meet took place in Oshkosh and unfortunately the team did not qualify overall to go to the championship at fourth place.
"We started on bars and then we went to beam, floor and then vault," Junior Sarah Knetzke, bars and floor, said. "We had a little bit of a rough start on bars, but afterwards, we went to beam and I think we got one of our highest scores of the season. So we're really excited about that. It was really a lot of fun because we're really confident in those last two events. That made it a really fun meet, but we thought we were going to be able to make it but we ended up being just not close enough."
The team did turn it around right near the sixth rotation, but it still was not enough to make it as a team, though some individuals are likely to qualify from the team. Those results are expected to come out Monday Mar. 13.  
"I think we really rallied on beam because it's definitely one of our weaker events, but we knew what we had to do to win," Knetzke said. "And so I think we kind of all came together and just trusted our training and did exactly what we do in practice to make it happen. And it was definitely one of the better beam rotations we've had all season, so that was really exciting for us."
Through all the highs and lows of the season, the team can still hope for an extension of the season through anyone who may qualify. Besides that, the regular season is pretty much done, so Knetzke reflected on the team this year.
"I feel like this whole season we've definitely talked about how we've had the best atmosphere we've ever had on this team," Knetzke said. "We just had a really tight knit group this year. So there's a lot of potential and it was a lot of fun because we were really close. We're all very excited for next year, but it was unfortunate that we couldn't qualify for one of our seniors. She had to stay at home this weekend due to COVID, which was really hard because her last meet was last weekend and she didn't know that. That's what makes it kind of hard on all of us too, knowing that she wasn't here so that we could qualify."
Knetzke also said that if enough of the individuals qualify then the team could have a possibility to travel with them. Regardless of the results, both senior Faith Mylin and senior Meg McGinley had some awards at the end which was a high note. Mylin received a fourth place finish to earn all-conference honors and McGinley was also recognized on the All-Sportsmanship Team.