Most outstanding wrestler
Senior wrestling captain Jaritt Shinhoster earned his second consecutive national title to cap off his career as a UW-Whitewater wrestler. Also named "Most Outstanding Wrestler" at the NCAA Division III National Championships this year, Shinhoster leaves his name engraved in the history of Division III wrestling, as well as the Whitewater history books, as one of the best to ever compete.
As the defending national champion, Shinhoster had hopes of achieving the title for the second year in a row, which he accomplished at the Berglund Center in Roanoke, Virginia, among the best wrestlers in Division III. Being named "Most Outstanding Wrestler" he said was the "cherry on top."
"I have never been more confident in an athlete than I was with Jaritt this year," assistant coach Shane Siefert said. "He is the ultimate competitor; the brighter the lights, the better he performs. This year was never about if he was going to win a title. It was about if he would win a title and 'Most Outstanding Wrestler.' This was the culmination of five years of hard work. Barring an injury, there was no one in the bracket that stood a chance."
As a captain with so much success under his belt, Shinhoster earned the respect of his teammates and led the team by example, pushing his teammates to be better everyday. Shinhoster will transition onto the coaching staff for the Warhawks next season and continue to motivate the team with his skill, knowledge and influence.
"He leads by example and hard work," head coach Matt Zwaschka said. "He will be able to influence and help all wrestlers, not just those around his weight. I think he can also help the athletes build a stronger mindset going into competitions and practices."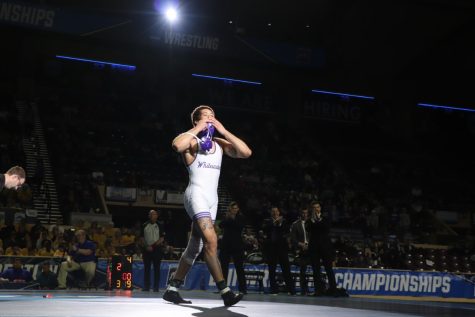 Shinhoster looks forward to following in his dad's footsteps and becoming a coach. By being able to put himself into the shoes of the athletes he will soon coach, he can use that to his advantage to better help teach them the rights and wrongs of the sport and the lifestyle that he says is necessary to accomplish the goal of being a national champion.
"If you want to accomplish your goals, your diet, your sleep, your habits, they all should be helping you towards completing your goals," Shinhoster said. "I don't regret anything I did and overall I'm happy with the outcome of my career. I will miss being in the light, but all good things must come to an end and it's about my time. I think I have a knack for leadership and helping people, especially when it comes to wrestling, and I think the transition from wrestling to coaching will go smoothly. I'm excited to see what I can do with this young talent and to see if I can get any of these guys to the level that I was at in my career. I'm looking forward to it."
Although his name will no longer be seen as the one seed on every bracket at every tournament, his legacy will remain strong in Whitewater wrestling as he uses his experience and knowledge to help get other athletes onto that championship stage and earn a national championship.