'Of Chicken, Myths & Fantasy: It Is Storied Tales Drives Our Dreams'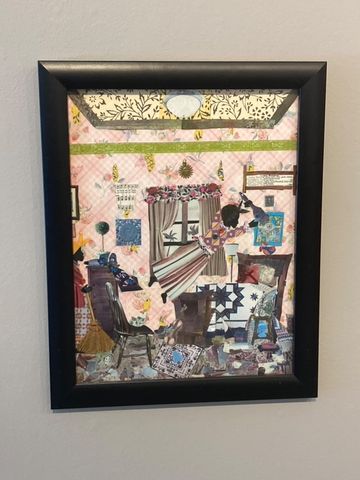 Della Wells is an artist from Milwaukee who taught herself her craft. Her art is mainly collage-based, and it has been displayed throughout Milwaukee as well as in New York City. From March 6th through March 23rd, Della Wells' art was displayed in our own Crossman Gallery in the Center of the Arts. The title of the gallery is "Of Chicken, Myths & Fantasy: It Is Storied Tales Drives Our Dreams," and its pieces tell stories about race, gender, and spirituality. 
"Paino Day with My Chicken" was one work in the gallery that I really enjoyed. It was a collage that depicted a girl (presumably the artist) playing piano with her chicken sitting on the bench next to her. The piece is realistic in size and subject-matter, except for flowers that are placed on the piece. They are large and seemingly coming out of the piano. I think that this was meant to say something about how piano makes her feel lively and her skills are growing. It's a whimsical way of dipcicting childhood that comes across well in the work.
"Alice Was Not Meant to Live the American Dream" is another piece in the gallery. This one's medium is stated as "acrylic and collage with found objects." The background is filled with American flags. On top of it is a dress with a lot of small objects and pictures pinned to it. My guess is that this piece is about going through a woman's life and looking at all the little trinkets that mean something to her and explain where she's been. The title suggests that her life is not easy. I'm guessing that this is because of race and gender struggles, like her other peices are. This one is different from the first work because of its negative subject-matter and its medium being 3-D. 
I think that these are effective works because they convey a message, which is what art is supposed to do. It is pretty easy to tell that the works have to do with race, gender, and spiritaulity, but you do have to look at the piece closer and think about what the specific message is. The art itself seems very intentional and each part of the collage is placed for a reason. Sometimes collages can feel like they are for aesthetic purposes only, but these pieces aren't that way. The artist does understand what looks good, but she also understands how to tell a story.