Men's Rugby pushes towards success
There are a variety of sports clubs available on the UW-Whitewater campus that may not get as much attention as say football or basketball does. However, these niche sports such as pickleball or water polo are just as equally important in the eyes of its members who work tirelessly to make them a success. One club sport who does this to a T is the Men's Rugby team. 
"I love the community that comes with rugby, it's a very friendly sport for how violent the actual game is," said Men's Rugby Captain Kyle Fredrickson, "Another reason is the amount of skill it takes to play because rugby is a combination of football, soccer, and basketball and brings all those elements into one game."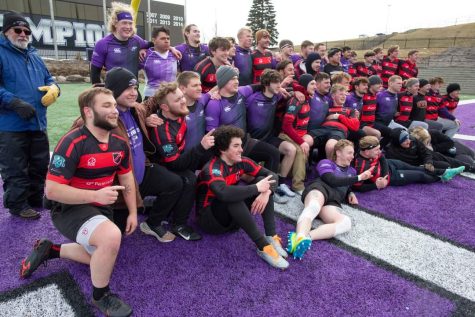 On average, there are about 75% more injuries related to the sport of rugby than to playing out in the fields during a game of football. While both are high-contact sports, rugby has a bit more of an edge of danger.
"I've been injured quite a bit. I've broken my rib and got knocked out at nationals last year," said Men's rugby member Micheal Bose. "It's a part of the game. However, every time I have gotten hurt was because I was attempting to do too much and not play smart rugby."
 Rugby is not just a rough sport but also a created community for those who play. A place to hone their skills and become leaders amongst themselves no matter the challenges.
"A positive of being captain is being someone who can be a teacher to grow their skills and knowledge of the game to make them the best they can be at rugby. As well as growing the game here in the states," said Fredrickson
Although Rugby originated in England in the early 19th century, it has since gained traction here in the U.S and has only continued to grow in support. Like Fredrickson, other members are also looking forward to seeing the sport become more mainstream.
"Rugby is really not that popular of a sport in America. So we get a lot of guys who are interested in the sport but don't know any of the rules or how to play. We find ourselves  a lot of times helping people learn how to pass, learn how to properly tackle. With NFL football you're taught to lead with your head but with rugby you're taught to lead with your shoulder. So it's getting these guys out of that football mentality since we have a lot of football players," said Men's Rugby Co-captain Hunter Wade
Although the unfamiliarity of the sport of rugby is still high, club sports such as the UW-W Men's Rugby team are working to keep it alive and well in the states. As they do so, they also get the extra perk of building a family along the way.
 "Overall, my whole rugby career at Whitewater has been a fond memory. The team took me in and made me feel like family. I am eternally grateful for everything they have done for me. I now have life long friends who I can count on, which is something I didn't really have my freshman year here. I have too many memories to count that I will look upon fondly in the future," said Men's Rugby member Karl Colman.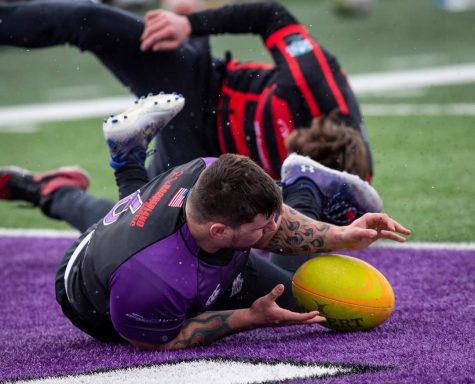 The Men's rugby team has been crushing their opponents on the field these past few weeks and are now looking forward to the conference tournament occurring Apr. 15 in Cottage Grove. If the Men's Rugby team were to place in the finals, that would mean a spot in the upcoming 2023 national championship.
"Last year we kind of went into that tournament with barely a full roster. A few guys hurt, a few guys missed because they were failing some classes. But this year we have a full roster of 22 guys, so we are really looking forward to playing these midwest teams and doing some damage this year," said Wade.
To keep up with the Men's Rugby team visit National Collegiate Rugby.