Domination ensues for first outdoor meet
Ryan Baker, Men's Sports Assistant Editor
April 9, 2023
Domination was the theme of the Rex Foster Invitational meet on April 7 for the UW-Whitewater Warhawks. The men's track and field team handed out a complete sweep of the other teams that came out to compete. Other teams included UW-Stevens Point, Marquette, and Augustana among others.
With a score of 249, the Warhawks had put up 100 points more than the second place finisher Stevens Point, who had a mere 135. Out of the 16 events that Whitewater had competed in, they had a top two finisher in all but three of the events. In half of those events UWW hoisted a first place finisher.
Two of the events stood out among the rest, due to the fact that they were overrun with purple and white in the standings. In the 3000m steeple run, the top five finishers were all Warhawks, and they even added an eighth place finish to the mix as well. Additionally, in the 1500m run, it was the top four and places of eight, nine, and ten for Whitewater.
With those two standing alone, it added 64 points out of the 249 posted in the masterful performance.
"All of the good performances we have are a good launching board for the rest of the outdoor season," said sophomore distance runner Gunner Schlender. "It's nothing that we are going to be super proud of and content with, but it is a nice confidence boost and gives us some really good references of where we are at."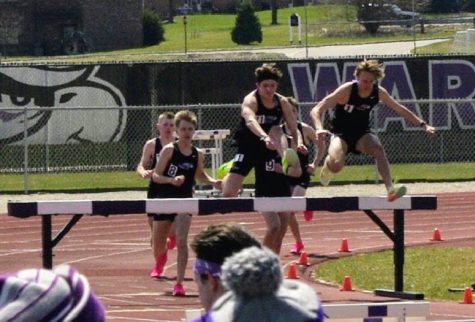 Due to some cold weather, spring break and a team decision not to compete in the UW-Platteville Open, this was their first time competing outside. The Rex Foster Invitational represented a great start to the outdoor season considering how quick the turnaround is for the end of the season. There are only three more meets until the WIAC championships, therefore the Warhawks don't have much room for error the rest of the way.
"Our expectations are to just take it as it comes, and with outdoor it can be unpredictable with the weather. I think a big part is competing as hard as we can when we race and letting the result be what it is. We're in a really good spot now to do some great things," Schlender said.
After the outstanding team performance for what Schlender commented on as "knocking the rust off" it sets the team up well to pinpoint what they need to work on and where they stand as a unit. However, there didn't seem to be much rust on the Warhawks, if at all.
The next meet that the Warhawks will look to continue to work on the little things and carry this momentum through is April 15 at the UW-Platteville Invitational.