Comedian brings laughs and monkey business
"YES! I love it when the crowd screams "Let's go!" at my comedy stand-ups, everybody should do that more often!" said Sam Morrison to the happy laugh crowd.
A gay, diabetic, Jewish and widowed comedian named Sam Morrison came to visit UW-W April 13 at the Down Under to make people laugh about sex, male attractiveness today, make fun of the crowd. Through humor he taught gay history, referenced movies like Gladiator and joked with students whose major is "monkey business."
The comic recently made his late night television debut on Late Night with Seth Meyers. He has his own solo show called Sugar Daddy on Broadway at the Soho Playhouse and has performed on The Drew Barrymore Show too. He had a husband who passed away from Covid-19 and wants to turn grief into comedy to help others laugh through life.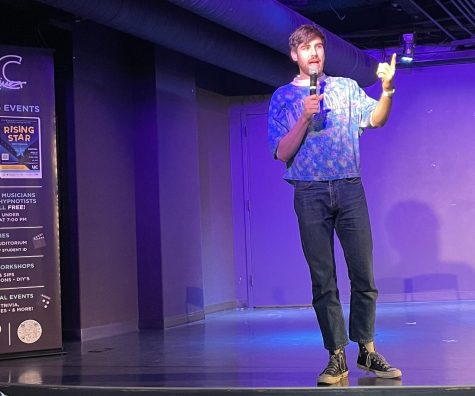 Morrison was funny with the way he interacted with the audience, which is called "crowd work" in the field. It was definitely a highlight of the comedy stand-up act, which warmed people up before he delved into topical jokes of his routine.
While asking questions about some of the majors that stand out at the university a student screamed out loudly, "Business!" When asked what kind of business major, a student replied dryly with "Monkey business," smiling slyly back at Morrison. The whole crowd burst into laughter and applause. 
"Ah! I can't believe I am getting upstaged by a monkey business joke!" said Morrison. "I am the comedian. You're there to listen to the jokes, Mr. Monkey Business." 
Morrison made fun of people in the rear seating with a Gladiator movie joke where they look like the Joaquin Phoenix character Commodus who would judge the act to give a thumbs up or thumbs down and get shot by a dart as he is performing. 
Morrison goes more into other jokes like the differences between muscular men and men with bellies, gay history, sports, and moving around goofy. He explains the men with bellies are more fun, easier to be with, unlike skinny muscular men who could break you with their bones, more like crashing into bones, and explains a bit more on gay history. He goes on to explain how men in history wore so much makeup back when George Washington, Abraham Lincoln was writing letters to a gay lover and that it was such a funny coincidence that his wife's last name was Todd.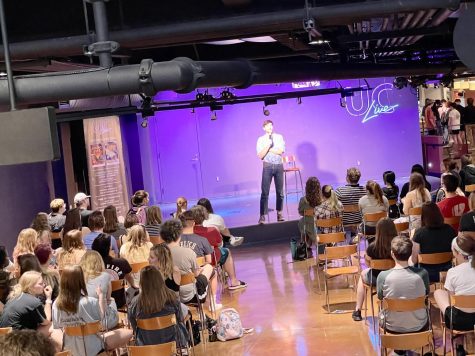 Sam Morrison was a crowd pleaser. In the end, his energy, fun vibes and ability to interact with the audience truly made it a great experience to watch.