A magical ballet
Young Auditorium hosted World Ballet Series: Cinderella on April 23. A total of 40 professional dancers from all of the country worked together to bring the show to life. Marina Kesler created choreography that was beautifully set to the music of Sergei Prokofiev. I personally have never been to a professional ballet performance before, but this one sets my standards high for sure. Let's talk about why!
The set was absolutely stunning. Every set change was done seamlessly, and every set matched the scene perfectly. My favorite one was the fairy godmother's. There was a giant mural of flowers backing the dancers. A pink light shinned down on the stage to further to magical effect. The clock background was very nicely done as well. It was intricate, showing the inner mechanisms of the clock.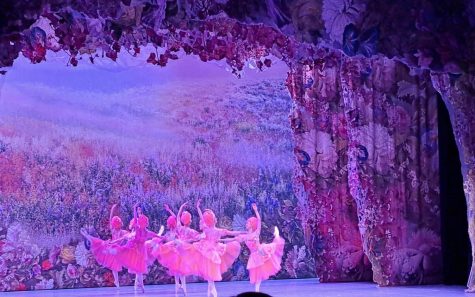 The costumes were beautiful. They were reminiscent of the designs of the original Disnery movie, with the expectation of Cinderella's gown. Her ballgown was a white gold instead of the movie's blue silver. I think that this was a smart choice because it complemented both the prince's outfit and the castle set. I do have to say that her dress might have been outshined by the fairy godmother's dress. Her dress was bubblegum pink with rhinestones on the bodice. The tule skirt floated in the air when she danced.
The actual dancing was great as well! I'm not one to judge ballet, but the dancers seemed to know what they were doing. They were in tune with the music and eachother, and I didn't see a single misstep in the entirety of the performance.
I was worried that the plot would be difficult to follow because the dancers don't speak, but I wasn't too bad. Of course, everyone knows the story of Cinderella, but I still think that a person could catch on even if they're not familiar with the tale. The acting was great. The characters could show a full range of emotions and even add a hint of humor to the ballet. Overall, I thought it was a great show!