Double, double toil and trouble!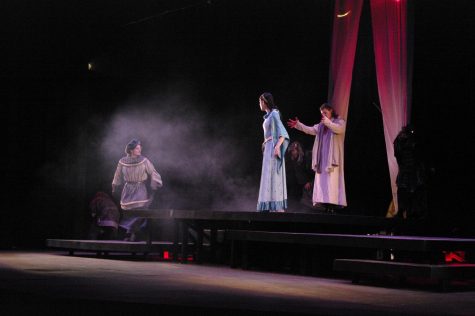 The Barnett Theatre in the Center of the Arts hosted its last show of the academic year this past week. Shakespeare's Macbeth ran from April 25 to April 30. It was performed by UW-Whitewater students and was directed by Professor Bruce Cohen. In the "A Note From the Director" section of the play's program, Professor Cohen describes the plot of Macbeth as being "a cautionary tale of political ambition and corrupted power; themes that were front and center during the reign of James I and, sadly, remain contemporary and evergreen to this day."
The set design was simple, but effective. There were wooden platforms of varying heights that allowed for the actors to jump up and down to give the sense that the stage was much bigger than it was. The fight scenes had more to them than they would have had if the stage was left flat. The lighting on stage was also very cool. Colored lights and a fog machine created an eerie atmosphere that set the tone of the play.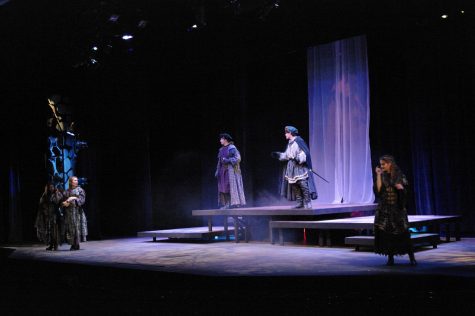 The acting was really well done. I'm always surprised by how good the theatre department casts their actors for shows. Antonio Parra, a freshman and theatre major here at UW-W, scored the role of the title character, Macbeth. He spoke with a lot of energy and he projected his voice well. Makayla Fedler, Dyamond Jackson, and Abby Frey played the three witches. Their performances had the most character for sure. The cackle they did was very impressive and their facial expressions and mannerisms were spot on. I think that it was a good choice to have the actors speak the old english words but to not put on the accent. It made the language easier to understand since Shakespeare can come off as being difficult to understand.
The costumes of the show were great! They had a lot of detail and fit each character well, both in terms of sizing and personality. Lady Macbeth's dress was a nice light blue color that caught your eye and worked to further her innocent persona that she put on after helping her husband murder the king. 
Overall, I thought the show was really well done! It has been a great year of plays, musicals, concerts, and shows for UW-W, and I hope it continues into next year.