Chancellor finds community on campus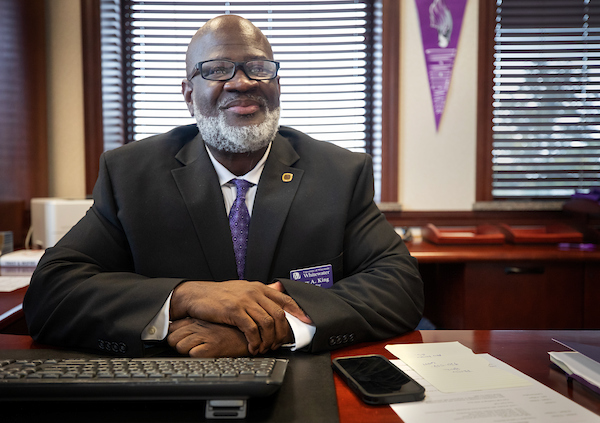 The University of Wisconsin Board of Regents announced Dr. Corey A. King as the 18th chancellor for the University of Wisconsin-Whitewater January 19, 2023. He began his position March 1, 2023, and as the campus heads towards the end of the spring 2023 semester, King addresses his first few months on campus, as well as what is to come. 
How has the transition into the UW-Whitewater campus been for you? 
"The transition has gone very well both personally and professionally. When I came to the area, I wanted to specifically live in Whitewater, and when I came there were three or four opportunities open, and people were telling me that was unusual. I found a house that I am closing on next week. The people have been extremely friendly. My first day I got flowers, candy, cards, and people have just been so open. I think the transition has also helped me understand that while the university has challenges, it also has opportunities. People know what our challenges and opportunities are, and they're ready to dive in together with me to move forward."
Now that you have been in Whitewater for a while, how are you finding campus life? 
"Instead of having a meet and greet for the chancellor, I have been going to people's authentic spaces. I've been to almost 30 student board meetings in the last 50 days, as well as almost 200 meetings, activities, programs, and events. That has been very rewarding because I see people in their authentic space doing good work. I'm here sometimes until 8 or 9 p.m. and there's so many activities going on on campus. I've been in student government meetings, events, activities, the annual drag show, and all types of different things that are happening. I am getting a sense of family and community, and just that people really love this place."
Looking forward, are there any goals you hope to implement? 
"I have put together 120 days' priorities for the university starting day one. Over the 120 days, we will focus on our strategic plan which will cover the next five years. That plan has been developed by all stakeholders related to campus and our goal is sometimes in early summer to have the final draft of the strategic plan. We're also focusing on our inclusivity space on diversity, equity, and inclusion. We are trying to ensure that we have a structure that really makes us a campus where people want to be and feel welcome. Additionally, we are focused on our enrollment growth. We are seeing increased numbers already with people signing up for orientation and housing contracts, so that gives me hope."
Are there any goals for the Rock County Campus?
"I am focused on our Rock County campus finding its niche. It is important to the UW-Whitewater family and we want to make sure we are helping them get their pillars that will be sustainable for years to come."
With the end of Dr. King's first semester coming to an end, his 120 day plan remains in place. For more information on the upcoming 2023-2028 strategic plan, visit https://www.uww.edu/strategic-plan/planning-process-2022-2023. 
"One of the greatest loves that I have found is that I don't have to sell Whitewater," concluded King. "People already love this place and know who we are and what we stand for."