UW-Whitewater women's tennis had their first match of the season Friday Sept. 1st. UW-Oshkosh's team put up a good fight, making the Warhawks fight for every point in both singles and doubles, but in the end the Warhawks came out on top. 
Their dominating performance in singles can be credited to their win even with the team having to fight for every point. One match with freshman Ashley Adkisson was especially tough, needing a tie breaker, where Adkisson pulled through with the win.
Another mentionable singles match belonged to fifth year MacKenzie Lindow, who still dominated, even with having to work at being strategic with her hits for each point.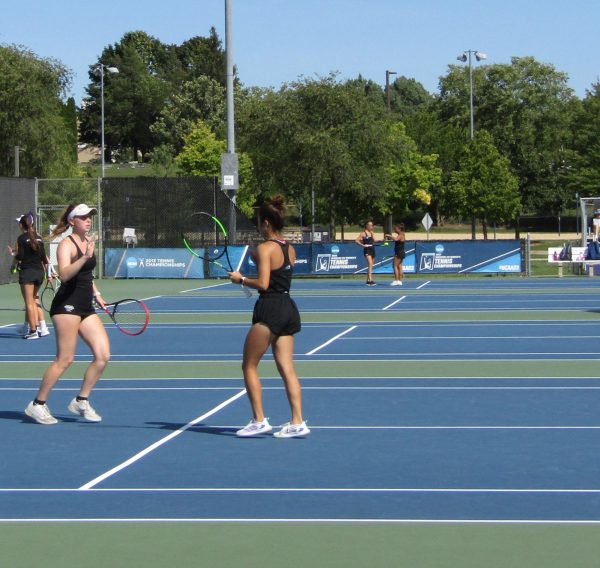 "Obviously it's the first match of the year," Lindow said. "There's a lot of emotions surrounding that. With this being my fifth year playing, a lot of different things added on top of the normal excitement of a first match. I think overall, everyone did really well handling that pressure. For me, I just went out and had a ton of fun and with a good attitude. This team is definitely one that was going to grind out every point and they made us work for every point. So kudos to Oshkosh."
Head coach Frank Barnes also commented on the tough battles but overall domination in each singles match.
"There were some pretty convincing wins at the top from our top four returning players, and they did a really good job," Barnes said. "MacKenzie did a great job at five. Really dominated from start to finish. And then Ashley playing sixth did a good job of battling. I told the girls after that we're gonna have a lot of that this year, a lot of close individual matches not just from Oshkosh that we need to figure out how to win when it's crunch time."
Though the doubles matches weren't as direct for the Warhawks, when it came down to that crunch time, the team did their best to stay in the matches and prevail.
"With our doubles, one and three had to figure out what to do in crunch time, and three didn't get it done but one did," Barnes said. "Three was a sophomore and junior's first time in a significant match. I thought they fought well, but unfortunately didn't get it."
The diversity in this day's lineup like with the number three doubles was a very purposeful move from Barnes. 
"You saw a lot of different people in the lineups because we're trying to give everyone a chance the first few weeks," Barnes said. "Then we'll have to kind of narrow down the lineup for the actual conference season. But we've improved a lot in the first two weeks of practice. A lot of the players that are on this team weren't in last year's lineup. We lost six girls that had significant playing time. So it was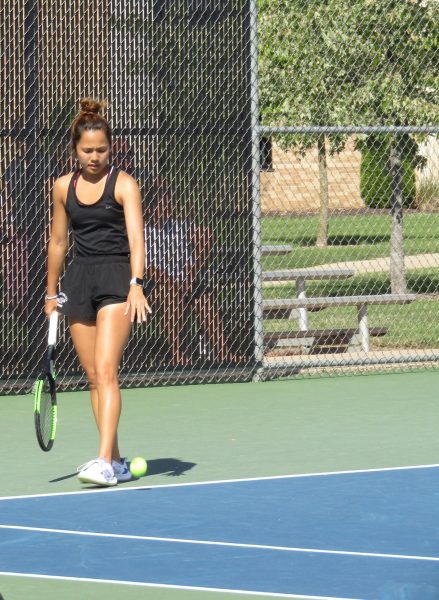 interesting to see who would step up throughout the preseason workouts and during this match. I think some of our players really showed up, they figured out what they needed to do to be ready for match play."
Lindow agreed with seeing a lot of the team step up. As a fifth year, she has seen the team through many changes, especially the significant loss with older players from last year's season to now.
"I think what's really exciting about this team is that we have so many people that can step up and play," Lindow said. "I think our expectation is that we go out every day, we work hard, and we play our best to try and win. We're really looking forward to seeing how we can compete against some of these teams. This is a team that's smaller than what we have had in the past, but I think it's giving everyone a lot of confidence and a lot of opportunities since we all want to work to get out there. People may think we're down and out but we're not."
The season has only just started, but the Warhawk Invite on Saturday Sept. 2nd is a good representation of the teams that UW-Whitewater will be facing during the season. The next match the team is looking to will also be at home on Sept. 10th, like the past two have been. 
"We are just really trying to peak by the end of October, for the conference championship," Barnes said. "Right now we're doing a good job and the team is looking forward to the season."