Long time UW-Whitewater men's basketball coach Pat Miller announced the end of his illustrious career with the university after a Final Four appearance at the end of the 2022-23 season. After 22 seasons serving as head coach, in addition to three seasons as a player, Miller's accolades include UW-Whitewater Athletics Hall of Fame, Wisconsin Basketball Coaches Association Hall of Fame, four-time WIAC Coach of the Year honors, two-time D3hoops.com National Coach of the Year, two national championships as a coach and one as a player, and on and on. 
To list all of the, awards, and titles to Miller's name is impressive enough in itself for him to go down as one of the many all-time great figures in the lore of Warhawk Athletics, but to many it was his character, and what he was able to accomplish off the hardwood that made him so special to the University.
"What an amazing person he is," Athletic Director Ryan Callahan said. "The amount of lives he touched on campus and the community goes further than all the wins and accolades he received. What he did for this place is really special, and what makes UW-Whitewater Athletics and the University as a whole such a good place is people like Pat."
The storied basketball coach saw countless athletes pass through the Warhawk basketball program and he was proud of the way the program embraced the significance of diversity, equity and inclusion. Although Miller is very proud of the way his athletes performed on the court, he is most proud of the program's ability to positively impact lives.
"Supporting diversity, cultivating relationships and cultivating support is something we focused on as a program. I feel good about that because we helped a lot of people and advanced their positions in life," he said.
When Miller wasn't winning basketball games he worked on fundraising for the program and pushing the individuals involved with Warhawk basketball to make it the best possible experience for all the coaches, athletes, fans, and everyone who cared about the program. To play for Miller was not just a basketball experience, but a life experience. 
"The total experience of college is what Pat enhanced with his program in all aspects," Callahan said. "Not just the physical aspects of being a basketball player, but also the physical, mental and emotional aspects of the program are what he really emphasized when he took over."
Miller first became a part of the Warhawk community when he joined the team as a player for three years before graduating in 1989. He broke multiple records as a student-athlete including shooting 48% from the perimeter. After a brief stint playing basketball in the Danish Basketball Federation Miller returned to Whitewater in 1993 as an assistant basketball coach, in addition to head coach of the women's golf program. After he earned two WIAC championships, along with two WIAC Women's Golf Coach of the Year honors, he took over the men's basketball program for the 2001-2002 season.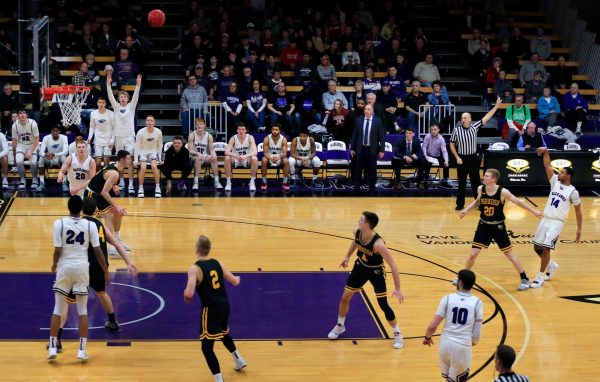 "His network was growing every year he was here and he would get to know a few more people each year, so by the time he had been here for 30 years he knew everyone," Callahan said. "That was big for his success as well, not just on the court having a brilliant basketball mind, but his network is so deep."
Regardless of being one of the most accomplished head coaches in all of Division III basketball, Miller is humble and attributes a portion of his success to the people that surrounded him and contributed to the program during his time with Warhawk basketball. 
"It is a great honor, but it doesn't happen without so many other people. Oftentimes I think coaches get too much credit when a team wins and too much blame when a team loses," Miller said. "So many other things go into it, the quality of your players, the program's ability to recruit, access to facilities and finances, the administration. I am grateful to have the level of success that we've had, but I am also aware of the different people and entities that made that possible."
Now Miller has decided that it is his time to step away from the Warhawk basketball program and start a new chapter in his life, he is looking forward to the challenge. 
"I took a job with a company in Madison with people I have known for a long time. It's a great position, I get to do a variety of different things. We are going to do some philanthropic things that involve basketball and great causes. We are going to do some business things that I am going to do on the private equity side," Miller said. "It is a new challenge, a great opportunity, variability in what I am doing, and I love the guys that I am working with so it was an opportunity I couldn't pass up." 
Although Miller is moving on from being the full-time leader of the Warhawk men's basketball program he is still planning on being one of the team's biggest supporters. He has high expectations for the team that made it all the way to the national championship contest where they were defeated by Mount Union.
The athletics department named former assistant coach Jarod Wichser as the interim head coach for the 2023-24 season, and Miller believes he is up for the challenge. 
"I think they are going to be great, I love those guys to death," Miller said. "They are in good hands with coach Wichser for sure. I have confidence that they will be great and carry the momentum and chemistry they had last year."