The Crossman Gallery, located at 950 W. Main St. in the Greenhill Center of the Arts, held the opening reception for their new exhibition titled "Water" Sept. 13. Utilizing a variety of unique artwork, gallery director and event coordinator Ashley Dimmig hopes those who visit the exhibit will truly see how vital water is.
"I think the theme of water seems really simple," Dimmig explains, "but I think, as all these different artworks and the themes and stories behind them show, there's a lot more beneath the surface."
The exhibit is separated into three thematic sections. Escape and Survival focuses on enslaved and incarcerated people. Climate and Crises raise awareness about climate change. Finally, Life and Foodways emphasizes indigenous people and generational knowledge.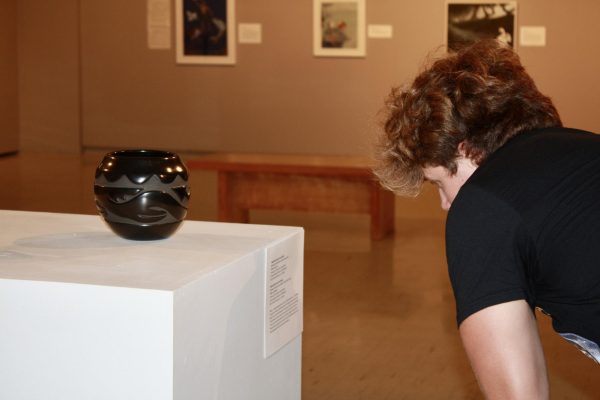 "I think it's really important to examine the different ways that different people relate to water and the different ways that water shows up in our lives," exhibit artist Nipinet Landsem stated. "Having exhibits like this is important to showcase the diversity of perspectives on something like this."
This is Dimmig's first coordinated exhibit in Whitewater, and she worked to provide some unique aspects. Along with traditional paintings, there is a series of indigenous-based digital art on display. Dimmig collaborated with the university's science department to provide an interactive station that allows guests to view aquatic insects under a microscope.
The gallery is also providing its guests with the opportunity to vote on which artwork they believe should be bought.
"We thought that we should let the students have a say in how we build the art collection," Dimmig said.
The Water exhibit will be open through Sept. 28. It is entirely free of charge and can be viewed at any time between 11 a.m. and 6 p.m., Monday through Thursday.
"It's thinking more about climate change and water as a precious resource that we need to save, but also using water as a metaphor," Dimmig stated. "There are so many layers to it that I want to let other people write their own stories within it too."