The Department of Music presented a Music Mosaics Faculty Showcase Recital Saturday, Sept. 23 at the Light Recital Hall in the Greenhill Center of the Arts. The entire Department of Music performance faculty was featured in Saturday night's showcase, which kicked off an exciting season ahead.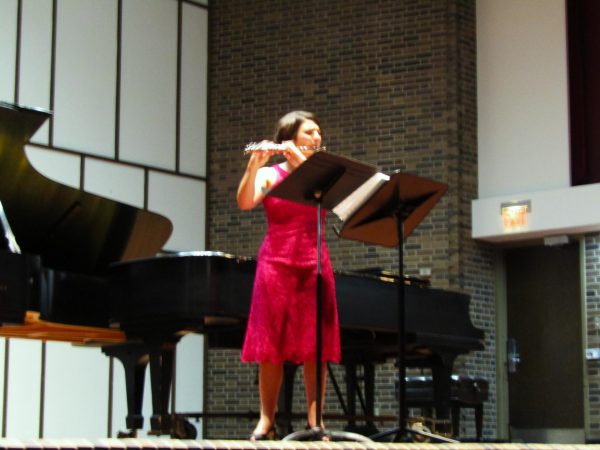 Keith Jarrett, an American pianist and composer, inspired Rob Hodson by his improvisation skills. Just like Jerrett, Hodson went on stage and improvised the whole piece he performed at Saturday night's showcase. In the program next to Rob Hodson's name, is the Japanese translation of "Whitewater." Cristina Ballatori performed two pieces, one titled "La Bella y El Terco," composed by Marco Granados and the second titled "Celtic Suite Number 2" composed by Herman Beeftink. "La Bella y El Terco" is two Venezuelan etudes for solo flute. The first etude, "La Bella," is about a beautiful yet sensitive girl who is the protagonist of the etude. The beginning theme is highlighting her finding the right man as well as the sadness of not finding him. At the end, the original theme returns and the etude is finished with an unfinished cadence, which presents the question of "will she find him?"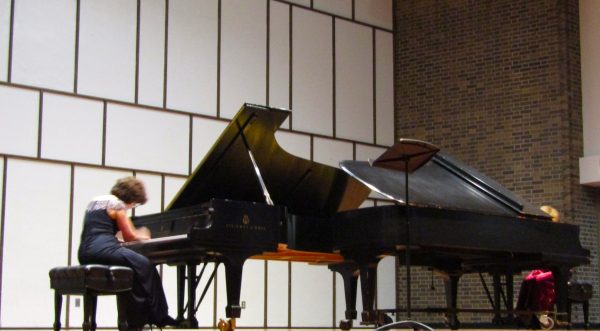 The second etude, "El Terco," is about an annoying, self-assured man who is longing to win the love of "La Bella." After she is impressed by his improvisational skills, she comes to the conclusion that he's not too bad after all. There's a part in the melody that represents this flirtatious behavior that comes about with the two. The piece ends with the original ostinato rhythm and the listener is left with deciding if they get together or not. "Celtic Suite Number 2," the second piece Ballatori performed, is a solo flute piece that was inspired by Ireland and Scotland. Ballatori said, "As you can see in the program, my last name is Italian, but I've always felt like I'm Irish."
One of the final pieces that was performed was "Variations on the Paganini's Theme" by Witold Lutoslawski, performed by pianists Stanislava Varshavski and Diana Shapiro. During World War II, Lutoslawski paired up with Andrzej Panufnik and they performed as a piano duo in multiple nightclubs with 200 pieces of music that Lutoslawski wrote for them. In 1944 the Nazis razed 85% of Warsaw, the capital of Poland, which left Lutoslawski and Panufnik no choice but to flee from Warsaw and get away. They only took their prized possessions with them, and Lutoslawski safely managed to take a few music scores, only one was from the 200 arrangements for his piano duo: Variations on a Theme of Paganini.
The showcase was a wonderful start to the year's music events. Those who hope to listen to more tunes can attend catch Matthew Onstad in a faculty trumpet recital Sept. 29 in the Light Recital Hall at 7:30 p.m.