After starting the season 0-3-1 UW-Whitewater has now won three games in a row including their recent 2-1 match against Carthage College Sept. 20. The game started out slow on offense for the Warhawks as Carthage was consistently pressuring the Warhawks defense. The pressure was no match for Whitewater sophomore goalie Jude Dobrinska who had five saves in the first half.  
Whitewater's offense started to heat up in the second half. The Warhawks got a fantastic opportunity in the 46th minute to put one in the goal but it was shot just outside the net. It didn't take long for the Warhawks to get another opportunity, this time by freshman midfielder Gianna Zamborini, who scored for the Warhawks to take a 1-0 lead in the 63rd minute. The goal was off a great pass from junior defender Juliana Madonia. The Warhawks kept the pressure up for most of the half getting several opportunities to score. Carthage played great defense but in the 86th minute the Warhawks scored again this time from junior midfielder Allie Prigge, unassisted, to make the game 2-0.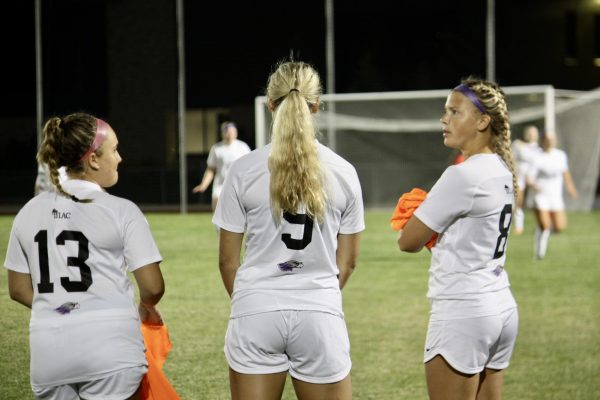 "A lot of it came down to not much tactically, it was more of the mentality that we needed to have going into the second half. We knew what we were capable of doing and we just didn't do it in the first half. We just needed to kick ourselves into gear and play the way we are capable of playing," head coach Dan Montanye said. 
Carthage didn't let Whitewater get the shutout, scoring with 11 second left to make the final score 2-1. Dobrinska, who had a stellar game, finished the game with six total saves. The Warhawks seem to be starting to find their groove under first year coach Dan Montanye.
"There is always going to be a transition with a new coach and so the first couple of games are always going to be where you are working out some of the kinks. I think we've worked some of those things out. And as you can see in that second half that's what we are capable of and that's what I want to see going forward," Montanye said.
The Warhawks are figuring it out at a good time as they are getting close to WIAC conference play. The first conference game is Saturday Sept. 30, when they travel to Eau Claire to face the Blugolds for the first time since they beat Whitewater in the WIAC semifinal last season.