Cindy Smock, or better known as Sister Cindy, made a stop on her "Ho No Mo" tour to UW-Whitewater Wednesday, Sept. 20.
Smock and her late husband Jed Smock started the Campus Ministry USA shortly after their marriage in 1981 as an attempt to return faith to college students and encourage them to become a "ho no mo." 
Smock and her husband first hit the internet following the 2020 pandemic as they traveled to different colleges and universities in Missouri.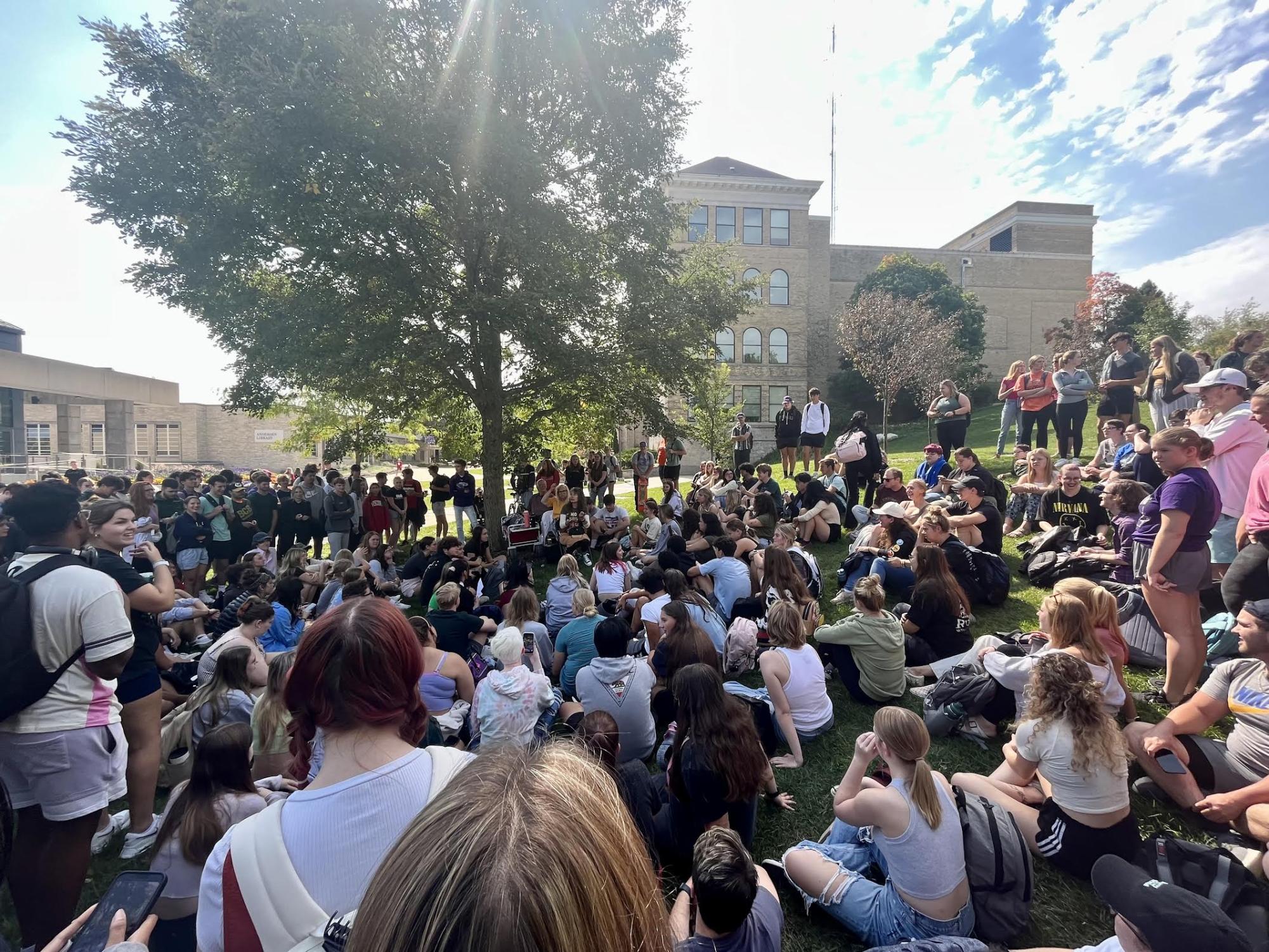 The two preached about their backstory: a young Cindy Smock, then known as Cindy Lesseter, living a stereotypical college girl's life in the 70s. It became her mission to seduce the young religious Jed Smock, and while she was able to take him to dinner, their night ended with prayer instead of what she had originally planned. After that night, Lesseter committed to both Jed and her faith, vowing to become a "ho no mo," and help other young girls to similarly find faith and avoid the life of a "ho."
After the first viral post on Smock and her husband, it became a trend for college students in Missouri to find "Sister Cindy" and "Brother Jed" on their campus. Soon after, the pair's ministry began to reach new states.
Following Jed's passing in June 2022, Smock continued to share their ministry across the country. 
To many college students, this "celebrity" is seen as more comical than serious. Smock herself has shared in other "teachings" since her spike in popularity some of her content has been more satirical. 
Her visit to UW-Whitewater was no different; by noon, hundreds of students packed between the University Center and Hyer Hall to hear Smock's "teachings."
"Honestly, when I first saw her in TikToks, she really annoyed me," said sophomore psychology major Hannah Dewhurst. "The more I saw the videos and the comments I started to think it was definitely some joke, so I absolutely had to come see her today. It was like watching a comedian, not a preacher."
Although many do not take what Smock has to say to heart, some of her preachings hold value. For one, she preaches to young women to not sell themselves short, and to hold higher standards for themselves.
"You are better than him," said Smock to the UW-Whitewater students. "You are trying to figure yourself out, and that is okay! However, the answer is not in your peers."
No matter how "Sister Cindy" is viewed, her abrupt, yet ironic personality has gained the attention of college students across the country, encouraging them to follow her lifestyle in being a "ho no mo."