As the leaves begin to change color, many of our wardrobes follow along. You may have noticed that many people are retiring their brightly colored summer clothes for more neutral, comfortable tones. This fall we will be seeing the return of many vintage styles and new seasonal trends. We'll delve into the fall 2023 trends and how they differ from our summer staples.
Recently, there has been a vintage fad, exploring "older" styles through the portal of second-hand clothing and thrift stores. "I've started going to Goodwill more than Target," shares Alex Phipps, sophomore on her style for this fall season. This fall, the most browsed-for item is the leather jacket. From fashion influencers to college students, an oversized or vintage leather jacket pairs perfectly with a comfy sweater or neutral t-shirt. They're practical for the cooler weather, while forming a low-effort aesthetic look. Next time you're passing one of our local thrift shops, step in and see if you can find a buried gem!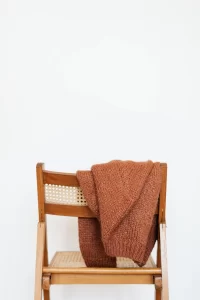 Another practical yet stylish way to stay cozy this fall is with knitwear. Knitwear continues to be a fall favorite, but in 2023, it's all about oversized, chunky sweaters. Paired with jeans or layered over a turtleneck, oversized knits add a touch of effortless chic to any outfit. Take it one step further and look for a sweater dress for a more formal occasion.
Neutrals continue to be a staple of the fall wardrobe, as they pair perfectly with everything. Other popular colors for the autumn season are burnt orange, olive green, pale yellow, and chocolate brown. These fall colors work well because they resonate with the changing season and the natural elements of autumn; bringing feelings of warmth, comfort, and nostalgia. Whether you prefer to embrace these colors through clothing, accessories, or makeup, incorporating them into your fall wardrobe can help capture the season in your style.
In contrast to summer's bold and statement accessories, fall leans toward minimalism. Simple, elegant jewelry like dainty necklaces and stud earrings are in Vogue. Classic, quality pieces that withstand seasonal trends are gaining popularity. While the emphasis is on minimalism, that doesn't mean you have to forgo all embellishments. Subtle and meaningful pieces that hold sentimental value are making their mark. Customized jewelry with initials, birthstones, or special dates allows you to add a personal touch to your accessories. "My favorite necklace is a basic chain that has my initials on it with my birthstone." said Megan Ehle on her choice of necklace for the fall season. These meaningful additions make your jewelry collection even more special.
Footwear also experiences a shift as we step into the autumn months. Sandals and flip flops are replaced by ankle boots, loafers, and sneakers. Wisconsin fall/winter weather can oftentimes be unpredictable, so having a good pair of boots or loafers is essential for those sunny-turned-snowy days. For those of us who are not quite ready to retire the Birkenstocks or clogs, find a comfy pair of knit socks to pair with them!
Whether you choose to seek out some vintage pieces or new autumn colors, remember that at the core of fall fashion is comfort. Cozy knit sweaters, warm jackets, and snug boots are not just fashionable; they provide a sense of physical comfort that allows you to feel confident.